Separately, In Tandem
View all Dates
Sat 01 May 2021, 07:30 pm - 8:30pm
Auckland Oldfolks Association
8 Gundry St
Auckland
Sun 02 May 2021, 07:30 pm - 8:30pm
Auckland Oldfolks Association
8 Gundry St
Auckland
Mon 03 May 2021, 07:30 pm - 8:30pm
Auckland Oldfolks Association
8 Gundry St
Auckland
Dance, Contemporary, Auckland Region,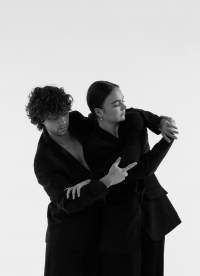 Separately, In Tandem is a double-bill contemporary dance show choreographed by Miriam Eskildsen and collaborators.

Helena (in collaboration with Veronica Chengen Lyu) is a solo that immerses intricate, highly stylized movement into an obsessive, fragmented persona; the unrelenting itch that is attention to detail intersecting with notions of paranoia, supernatural mythology, and the ever-fragile illusion of control.
Night Dance (in collaboration with Cecilia Wilcox and Jacob Reynolds) presents a dream-universe born from the subterranean terrain of the subconscious; a stark, surreal realm populated by a lone pair of chameleon-like characters, with composition by Elani Austin-Tennant.
Event Dates
Auckland Oldfolks Association
Auckland
8 Gundry St

Sat 01 May 2021, 07:30 pm
Sat 01 May 2021, 08:30 pm
Auckland Oldfolks Association
Auckland
8 Gundry St

Sun 02 May 2021, 07:30 pm
Sun 02 May 2021, 08:30 pm
Auckland Oldfolks Association
Auckland
8 Gundry St

Mon 03 May 2021, 07:30 pm
Mon 03 May 2021, 08:30 pm