Secrets in Your Streets
View all Dates
Sat 17 Apr 2021, 01:00 pm - 2:00pm
Regent Theatre
The Octagon
Dunedin
Sat 17 Apr 2021, 03:00 pm - 4:00pm
Regent Theatre
The Octagon
Dunedin
Sat 17 Apr 2021, 05:00 pm - 6:00pm
Regent Theatre
The Octagon
Dunedin
Sun 18 Apr 2021, 01:00 pm - 2:00pm
Regent Theatre
The Octagon
Dunedin
Sun 18 Apr 2021, 03:00 pm - 4:00pm
Regent Theatre
The Octagon
Dunedin
Dance, Contemporary, Festivals Arts, Free Entry Event, Otago Region,
FREE - limited to 45 people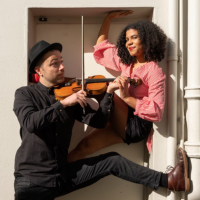 Java Dance Theatre and Dunedin Arts Festival
The makers of Back of the Bus return to Dunedin to create a trail just for you!
Follow our heroes, a band of dancing cleaners in this joyful riotous adventure. Live music and dance draw you into secret places in your own city. Secrets in Your Streets is a celebration of public spaces, hidden places and our ability to transform as the world around us changes. Featuring special guests from Dunedin with Java Dance Theatre.
Book by emailing info@artsfestivaldunedin.co.nz with your preferred date and time.
Event Dates
Regent Theatre
Dunedin
The Octagon

Sat 17 Apr 2021, 01:00 pm
Sat 17 Apr 2021, 02:00 pm
FREE - limited to 45 people
Regent Theatre
Dunedin
The Octagon

Sat 17 Apr 2021, 03:00 pm
Sat 17 Apr 2021, 04:00 pm
FREE - limited to 45 people
Regent Theatre
Dunedin
The Octagon

Sat 17 Apr 2021, 05:00 pm
Sat 17 Apr 2021, 06:00 pm
FREE - limited to 45 people
Regent Theatre
Dunedin
The Octagon

Sun 18 Apr 2021, 01:00 pm
Sun 18 Apr 2021, 02:00 pm
FREE - limited to 45 people
Regent Theatre
Dunedin
The Octagon

Sun 18 Apr 2021, 03:00 pm
Sun 18 Apr 2021, 04:00 pm
FREE - limited to 45 people