Rituals of Destruction - Alexa Wilson
9 hours ago, Sat 27 Nov 2021, 08:30 pm - 9:30pm
Ron Ball Studio
Christchurch Town Hall
Christchurch
Dance, Contemporary, Festivals Arts, Performing Arts, Canterbury Region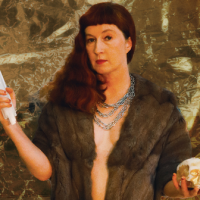 Figures appear and recede during a time of tumultuous change to perform rituals, smash rituals, morph rituals, dance battle and satirise rituals.
This offers the power of ritual as an activist gesture underlying our every day and historical relationships that connect, liberate, enslave, revolutionise and stabilise us in a constant state of change as we navigate current global crises.
Responding to the global phenomena of mass crisis, collective resistance, and traumatic effects of a pandemic using performance itself as a ritual through dance, performance art and humour reveals the roles of ritual in our collective and individual self-creation.