Reviews
DANZ
Transfigured Night
Chamber Music New Zealand
New Zealand String Quartet & BalletCollective Aotearoa
Michael Fowler Centre, Wellington
15 March 2021, 7:30 p.m.
Reviewed by Keith McEwing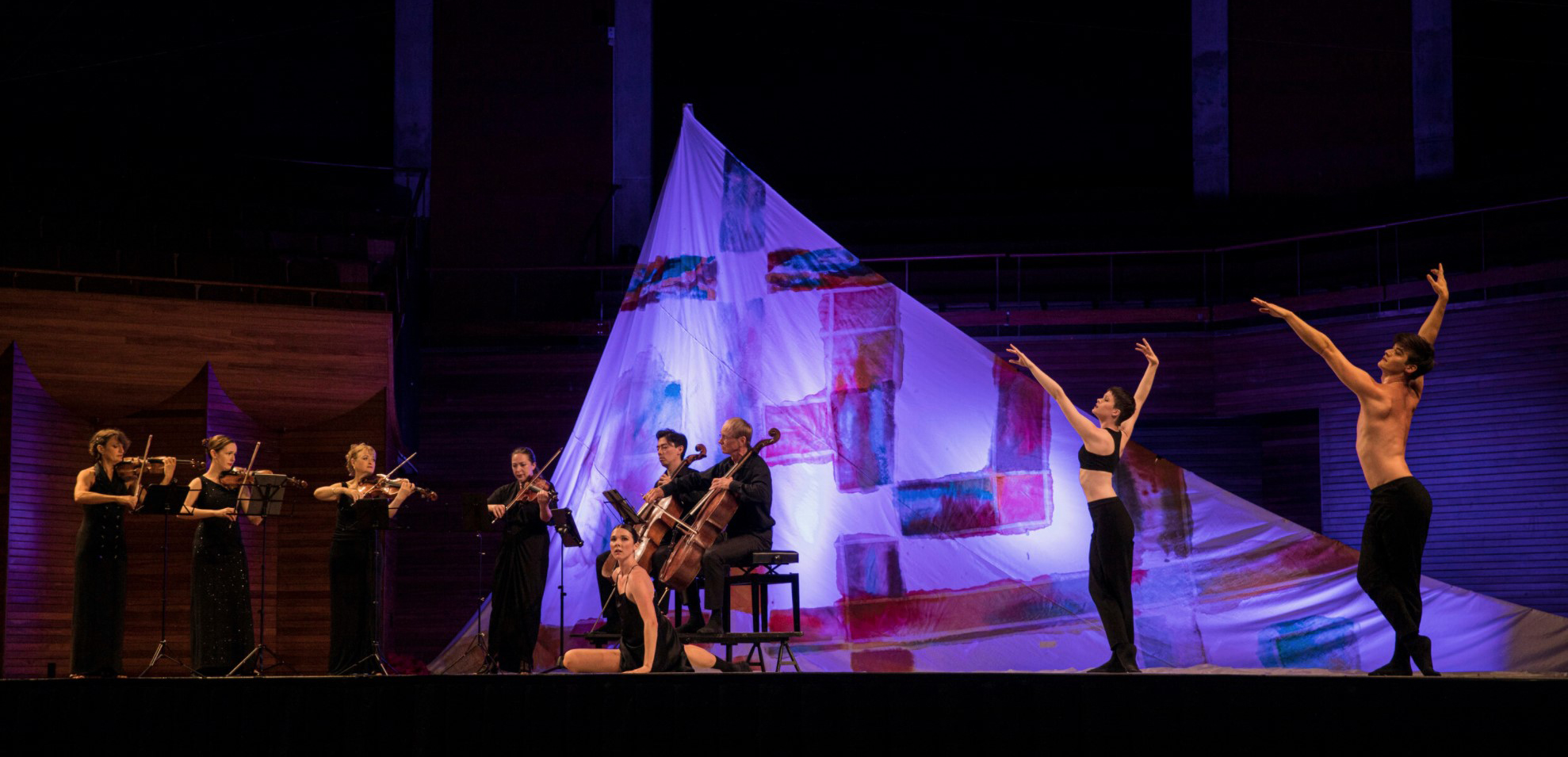 Chamber Music New Zealand has boldly incorporated a theatre element into their national tour, Transfigured Night, by commissioning leading ballet choreographer Loughlan Prior to choreograph the entire programme. The New Zealand String Quartet—Helene Pohl, Monique Lapins (violins), Gillian Ansell (viola) and Rolf Gjelsten (cello)—joined by Serenity Thurlow (viola) and Ken Ichinose (cello) play music by Antonin Dvořák, Arnold Schoenberg and New Zealander Tabea Squire. Dancing we have Laura Saxon Jones, William Fitzgerald and Tabitha Dombroski, members of BalletCollective Aotearoa.
The merits of choreographing concert music have long been argued. Does the dance add or detract from the music? The answer—as for any artistic endeavour—is subjective, but with careful selection of music and considered choreography the sum can be greater than that of its parts. And this is certainly the case here.
The programmatic Verklärte Nacht by Schoenberg and the Slavic folk dance tunes used by Dvořák in String Sextet in A minor (Op 48) both lend themselves to dance performance. Equally, the NZSQ are no strangers to accompanying dance and have often been willing participants in movement theatre programmes. From their sequential arrivals on stage from different parts of the concert hall to kicks and chasings about the stage, playing all the while, the musicians earn their position centre stage. Gjelsten's skill combining chasing and cello playing is especially noteworthy.
The concert is in two contrasting halves: the first half of the concert programme is light and playful, the second sombre.
In the first half, Saxon Jones enters silently, looking in wonder at the music on each stand. Then one by one the musicians enter playing, along with the other two dancers. (It's an interesting juxtaposition to have a dancer looking at a score while musicians play from memory!).
Both musicians and dancers are costumed in white with pastel-dyed edges, against a white sail backdrop with painted rectangles, lit to give the impression of sunlight shining through stained glass. Set and costumes are designed by Fitzgerald.
Squire's I Danced, Unseen was commissioned by CMNZ for this programme. It was to music by Squire that I first saw Prior choreograph, in 2012. In that year gaps in the schedules of both the New Zealand Symphony Orchestra and the Royal New Zealand Ballet allowed several ballet company members to choreograph to music chosen for the NZSO/Todd Corporation Young Composers Awards. Prior choreographed Between Us for three couples to Squire's composition Tiszavirág.
Nearly nine years later, with both having received recognition in their own fields, they have successfully reunited, the success a tribute to their openness to the suggestions and offerings of each other.
Another reunion is that of Saxon Jones and Fitzgerald dancing Prior's choreography. Both were familiar presences in Prior's earlier works, Fitzgerald memorably in Lark, danced alongside Sir Jon Trimmer. With Dombroski the three dancers perform the precise, skilfully crafted ensemble work which is such a feature of Prior's approach.
For the Dvorak, the NZSQ—augmented to six players—have a playful back and forth with the dancers as they regroup on stage. The dancers sit attentive, giving the music space and priority. They then dance—as a duo, solos or all together—in different locations around the musicians. The final movement in variation form is treated most effectively with choreography of different pairings as well as for all three dancers, and also incorporating movement from I Danced, Unseen.
Transfigured Night itself, which fills the second half of the programme, is dark and brooding. The dance references themes of the Richard Dehmel poem, which was Schoenberg's inspiration, but not literally. The backdrop is now lit as if by moonlight, a large blood-red silk cloth lies on the stage, and the performers are in black.
Saxon Jones, once again the opening dancer, drapes herself in the red silk. Starting with a tension between changing duos and one "outside", a middle passage brings more harmony and unity among the dancers. A white silk substitutes the red one, which then appears to catch a dancer, like a netted creature that will eventually emerge from a chrysalis. The final scene sees Dombroski and Fitzgerald draping Saxon Jones in a white skirt—the transfiguration. Saxon Jones, again the lone dancer on stage, departs, trailing the train of her new garment.
Overall, the concert is thrilling. The musicians are sure. Saxon Jones and Fitzgerald return to our stages looking stronger than ever. Dombroski, former NZSD student returned, matches them in technique and performance. This is one of the first offerings of BalletCollective Aotearoa, a new, project-based contemporary ballet company. This is a very strong start and they deserve our attention and support.
{Photo: Jack Hobbs)