Proposals Sought- Friday Features - Series 6
Tue 04 May 2021, 09:00 am
Wellesley Studios
113 Wellesley Street West
Auckland
info@wellesleystudios.co.nz or 09 373 4336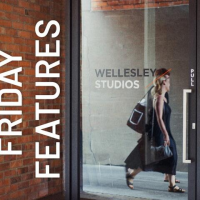 Wellesley Studios exists to make a real difference for the NZ performing arts sector. It is a space where artists can continue their training, connect, collaborate and create with others.
As part of our vision to provide connection and collaboration within the professional independent dance sector, and after successful 'Friday Features' Series 1-5 and a small break after the whirlwind that was 2020, Wellesley Studios is calling out for proposals for 'Friday Features - Series 6'!
'Friday Features – Series 6' will be hosted over a period of 4 weeks beginning June 18th 2021 and finishing on July 9th 2021 from 6pm – 8pm.
Every Series we look to build a programme of free events to be held in a relaxed, risk-free setting open to the community. While this remains an open platform and we are still interested to hear any ideas you want to share or present, we would encourage proposals that can work across the current unpredictable landscape and requirements for physical distance/dancing should we be in a Level 2 scenario.
Examples could be a work in development, an improvised choreographic session or discussion around your artistic experience, however there are endless possibilities and we are open to hear all suggestions!
Wellesley Studios is committed to safely continuing Friday Features and providing Studio space for dancers and a free platform for all to share and connect.
If you would like to be a part of our Fridays, please let us know your ideas by sending in a short proposal to info@wellesleystudios.co.nz by Sunday 30 May 2021.

To help with curation, please state if there are any Fridays you are not available. We aim to have a line up finalised by Friday 4th June 2021.
For any further queries, please contact: info@wellesleystudios.co.nz or 09 373 4336