Navarasa- Nine Emotions - Mudra Dance Company
View all Dates
Fri 02 Jul 2021, 07:30 pm - 9:30pm
Little Theatre
2 Queens Dr
Lower Hutt
Sat 03 Jul 2021, 07:30 pm - 9:30pm
Little Theatre
2 Queens Dr
Lower Hutt
Sun 04 Jul 2021, 04:00 pm - 6:00pm
Little Theatre
2 Queens Dr
Lower Hutt
Dance, World Art And Culture, Cultural Ethnic, Wellington Region
Wheelchair Access, Accessible Toilets, Mobility Parking
$25-$30 (plus booking fees)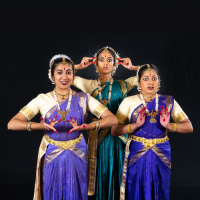 Mudra Dance Company Presents
Navarasa: Nine Emotions
A spectacular dance work exploring primal human emotions.
Choreographed and produced by Vivek Kinra, and performed by the Mudra Dance Company.
The acclaimed Mudra Dance Company, founded by Vivek Kinra, return to the stage with the inspiring and emotive production of Navarasa: Nine Emotions.
Navarasa will be a kaleidoscope of motion, colour, music, mime, and rhythm. The central piece of this new dance work explores the primal human emotions through the classical Indian dance form, Bharata Natyam.
Navarasa means Nine Emotions; Nava meaning nine, and Rasa meaning emotions. The nine emotions are Shringara (Love), Hasya (Laughter), Karuna (Compassion), Raudra (Anger), Veera (Courage), Bhayanaka (Fear), Beebhatsya (Disgust), Adbhuta (Wonder), and Shanta (Tranquility).
These nine emotions are the foundation from which the Indian classical traditions of dance, music, theatre, art, and literature evolved. The concept of Navarasa continues to be the backbone of these various traditions, even in their contemporary forms.
Rasa is in everything, or better yet, everything has Rasa. Rasa is the invisible substance that gives life its meaning. Rasa is also the state of artistic ecstasy. When the spectators get completely absorbed in the dance and experience a state where they are beyond the realm of the five senses – they experience Rasa.
The remainder of this production is choreographed to the music compositions of the great Oottukkaadu Venkata Kavi. Venkata Kavi was a widely renowned South Indian composer from the 18th century who composed hundreds of musical pieces in Sanskrit and Tamil. He is considered to be one of the pioneering composers in Indian classical Carnatic music. Venkata Kavi's compositions are characterized by extremely rhythmic patterns intertwined with the music. His compositions showcased in Navarasa praise the Hindu deity Krishna, affectionately referred to as the "Dark Lord".
The presentation of Navarasa will be a significant work in the celebrated and illustrious career of Vivek Kinra. Kinra is acclaimed both nationally and internationally as an exemplary exponent of Bharata Natyam. The dances highlight Kinra's choreography which combines innovative and traditional elements of this classical dance form.
Mudra Dance Company will be working with the Kurinchi Kumaran Temple to assist them in fundraising for their activities through this performance of Navarasa. The Temple is situated in Newlands, Wellington and is a valuable institution in preserving and promoting Indian social, cultural and religious values in New Zealand.
Characterized by beauty and charm, Mudra Dance Company is a visual feast of brilliant sari colours, traditional headdresses of braids and flowers, and the sparkle of gorgeous jewellery. Navarasa will excite the audience with fast-moving and emotive dance pieces that showcase the incredible talent of this highly regarded dance company.
Artists Mudra Dance Company
Venue Lower Hutt Little Theatre
Date/Time July 2 Friday 7:30pm
July 3 Saturday 7:30pm
July 4 Sunday 4:00pm
Duration 2 hours including an intermission of 20 minutes
Tickets $20 - $30
Available from Eventfinda: 0800289849 www.eventfinda.co.nz Booking fees apply
Contact Mark Graham 021 550245 (Publicist, Mudra Dance Company)
mudra@xtra.co.nz www.mudra.co.nz
Event Dates
Little Theatre
Lower Hutt
2 Queens Dr

Fri 02 Jul 2021, 07:30 pm
Fri 02 Jul 2021, 09:30 pm
$25-$30 (plus booking fees)
Little Theatre
Lower Hutt
2 Queens Dr

Sat 03 Jul 2021, 07:30 pm
Sat 03 Jul 2021, 09:30 pm
$25-$30 (plus booking fees)
Little Theatre
Lower Hutt
2 Queens Dr

Sun 04 Jul 2021, 04:00 pm
Sun 04 Jul 2021, 06:00 pm
$25-$30 (plus booking fees)