Veritigo Dance Company Audition
Fri 11 Jan 2019, 10:00 am
Fri 11 Jan 2019, 04:00 pm

Vertigo Eco-Art Village Kibbutz Netiv HaLamed Hei
Israel
Applications close 6 January 2019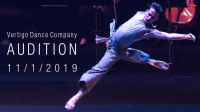 Vertigo Dance Company – Audition for dancers from abroad.
Where: Vertigo Eco-Art Village, Kibbutz Netiv HaLamed Hei, Israel
When: January 11th. 2019. at 10:00
Deadline for applications: January 6th. 2019 at 16:00
Audition is free and open.
To apply, please send an application to office@vertigo.org.il
Please mention in the e-mail your full name, age, and origin.
For further information, please visit www.vertigo.org.il