Unitec Dance TAKURUA Winter Workshop
6 days ago, Tue 17 Jul 2018, 09:30 am
4 days ago, Thu 19 Jul 2018, 03:30 pm
Unitec
Entry 1, Carrington Road, Mt Albert
Auckland
Dance, Performing Arts, Theatre,
1-3 days ($50 per day or $120 3 days incl. gst)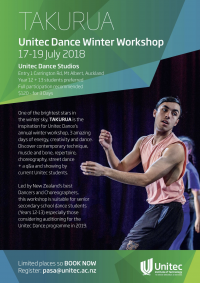 Three amazing days of energy, creativity and dance. Discover contemporary technique, muscle & bone, repertoire, choreography and street dance, + a Q&A and showings by current Unitec students.
Highly recommended for senior Secondary School dance students preparing to audition for Unitec's dance programme in 2018.
Year 12 and 13 students preferred.
TAKURUA - UNITEC DANCE WINTER WORKSHOP 2018
Dates: 17, 18, 19 July 2018
Cost: $120 for three days or $50 for one day. (inc GST)
Time: 9:30am – 3:30pm
HOW TO BOOK?
Limited places. To register email us at pasa@unitec.ac.nz