Trigger Dance Teachers Professional Development workshop
5 days ago, Wed 18 Jul 2018, 01:00 pm
5 days ago, Wed 18 Jul 2018, 05:00 pm
Dance Education Centre
228 Levers Rd, Matua
Tauranga
Dance, Professional Development,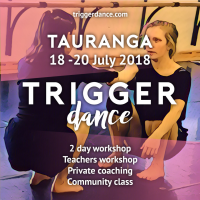 For: Studio and NCEA dance (and drama) teachers wanting to develop their choreographic skills; with tips, exercises and strategies to take back to your classrooms/students. Learn strategies for creating new movement, contact partnering and structuring choreography for solos and group works, from two of NZ's most experienced dance-makers and choreography teachers.
Registration fee: $120 per teacher, places strictly limited.
Register at www.triggerdance.com