Who Is Coming For Dinner
7 days ago, Sat 16 Mar 2019, 06:31 pm
5 days ago, Mon 18 Mar 2019, 07:30 pm
BATS Theatre
1 Kent Tce
Wellington
Dance, Performing Arts, Festivals Arts, Theatre
Wheelchair access, Accessible toilets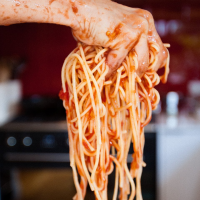 A new Dance/Physical Theatre show part of the NZ Fringe Festival!

WHO IS COMING FOR DINNER
Produced by Just Be Collective & directed by Veronica Butturini

Individuals are meeting, hungry to connect. Carrying different needs, beliefs, experiences and knowledge, yet, with much in common, here they are now: feeding themselves, nourishing and celebrating their state of being or the perception of what they think they are. Join the mid-summer emotional potluck!
Booking via BATS Website