Shel We? at Kia Mau Festival
Sat 01 Jun 2019, 07:30 pm
Sun 02 Jun 2019, 08:30 pm
Hannah Playhouse
12 Cambridge Terrace
Wellington
Dance, Festivals, Pasifika,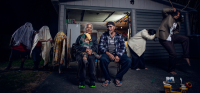 If you are a dreamer, come in.
If you are a dreamer, a wisher, a liar,
A hope-er, a pray-er, a magic bean buyer . . .
If you're a pretender, come sit by my fire,
For we have some flax golden tales to spin.
Come in!
Come in!
– Shel Silverstein
Inspired by the works of renowned American writer Shel Silverstein, this is an invitation to witness an enchanting, playfully intriguing, and visually stunning dance show.
Award winning choreographer Tupua Tigafua is a highly accomplished dancer and one of the most ingenious storytellers of this generation. After an illustrious career dancing for some of Aotearoa's creative elite, Tupua has masterfully created his own dance style.
Shel Silverstein was a critically acclaimed writer of children's books such as Where The Sidewalk Ends, Falling Up and most notable The Giving Tree. He was a talented lyricist and wrote iconic ballads such as Sylvia's Mother for Doctor Hook and A Boy Named Sue for Johnny Cash. Shel's offbeat style and brilliant use of metaphorical imagery in his poetry and sketches is cleverly captured in Tupua's choreography. This original artistic brilliance is now what we know as Shel We?