Shel we? Te Tairāwhiti Arts Festival
24 hours ago, Wed 16 Oct 2019, 06:30 pm
23 hours ago, Wed 16 Oct 2019, 07:30 pm
War Memorial Theatre
Gisborne

Dance, Festivals, Pasifika,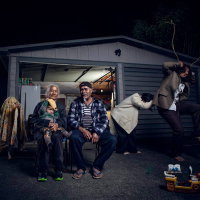 A touching tribute to the work of Shel Silverstein and the environment that has made a man.
Tupua Tigafua is a highly accomplished dancer and one of the most ingenious storytellers of his generation. After dancing with some of Aotearoa's creative elite such as New Zealand Dance Company, Black Grace and MAU, Tupua has masterfully created an enchanting, playfully intriguing and visually stunning dance show. Inspired by the works of renowned American writer Shel Silverstein,
Shel We? is an invitation.
Shel Silverstein was a critically acclaimed writer of children's books such as Where the Sidewalk Ends, Falling Up and most notable The Giving Tree. He was a talented lyricist and wrote iconic ballads such as Sylvia's Mother for Doctor Hook and A Boy Named Sue for Johnny Cash.
Shel's off beat style and brilliant use of metaphorical imagery in his poetry and illustrations is what inspires Tupua's choreography - ultimately, delivering a tribute to his parents, his family and the environment that has inspired him over the years.
This work has been presented at the Mangere Arts Centre in Auckland for the Pacific Dance Festival, as well as at the Measina Festival at Te Auahā in Wellington City and Pātaka Art + Museum in Porirua.
Hundreds of primary school children rose to their feet in applause, the young hipsters were in awe after the show asking how they could become contemporary dancers, and senior citizen lovers held hands and gazed into each other's eyes after hearing an old Samoan love song that brought back memories of the vibrant 70s. Shel We? appeals to different generations from all walks of life.
Tickets available from
iTICKET.
Tickets: A Reserve $25, A Reserve Concession $20, B Reserve $20, Children $15.
Date: Wed 16 Oct, 6.30PM.
Note: A strict lock-out policy will be in place once the show starts. So, please ensure you are on time..
Lighting Designer:Lisa Maule.
Lighting Operator: Haami Hawkins.
Sound Designer: Tupua Tigafua.
Acknowledgements:
Pacific Dance Festival
,
Measina Festival
,
Kia Mau Festival
and
Le Moana
.
Image credit: Pati Solomona Tyrell.