I'mPaired - Touch Compass
Thu 21 Mar 2019, 07:30 pm
Thu 21 Mar 2019, 09:30 pm
The Pumphouse Theatre
Killarney Park (off Manurere Avenue) Takapuna
Auckland
Fri 22 Mar 2019, 07:30 pm
Fri 22 Mar 2019, 09:30 pm
The Pumphouse Theatre
Killarney Park (off Manurere Avenue) Takapuna
Auckland
Dance, Performing Arts, Theatre,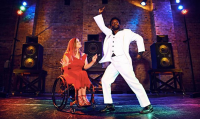 I'mPaired flips perceptions of impairment on its pate.
The world premiere season of an ingenious production of new, integrated theatre and dance duets will take place 21-23 March at Takapuna's PumpHouse Theatre.
I'mPaired, by New Zealand's leading inclusive performance organisation Touch Compass, flips the perception of impairment on its head and celebrates our diverse society.
As inspiring as it is experimental, I'mPaired showcases dance, theatre, visual arts and new technology, with work created by a diverse range of artists.
The programme includes Drift, a successful duet choreographed by Sarah Foster Sproull and performed by Touch Compass dancers Julie van Renen and Rodney Bell.
A piece performed by dancer Julie van Renen and artist Yung Chen (a visual artist with Cerebal Palsy), The Language of Colour is an extraordinary mash-up of contemporary dance, digital technology, live art, music and performance.
There will be duets from members of Touch Compass' new hip hop crew Integr8, choreographed by Colette Wilson, and a new theatre work by Joanna Pearce, a highly regarded transgender playwright and performer.
One of Touch Compass' founding dancers, hip-hop champion Jesse Johnstone-Steele and his long-time partner Adrian Smith will also perform.
According to Touch Compass' General Manager, Charlotte Nightingale, "I'mPaired realises the beauty in everyone's unique talent. We asked the artists to throw ideas at us which were bold and inspiring. It was such a simple concept – work in pairs – and yet the result is so remarkable."
"For Touch Compass, as we are now 21, we wanted to acknowledge and celebrate what we have achieved, making a work with a broader outlook but one which retained our core values of diversity and dance."
Booking through the Pumphouse Theatre Website
Event Dates
The Pumphouse Theatre
Auckland
Killarney Park (off Manurere Avenue) Takapuna
View on map
Thu 21 Mar 2019, 07:30 pm
Thu 21 Mar 2019, 09:30 pm
The Pumphouse Theatre
Auckland
Killarney Park (off Manurere Avenue) Takapuna
View on map
Fri 22 Mar 2019, 07:30 pm
Fri 22 Mar 2019, 09:30 pm