Hōkioi me te Vwōhali - Okareka Dance Company
Thu 12 Mar 2020, 08:00 pm
Thu 12 Mar 2020, 09:00 pm
Fri 13 Mar 2020, 08:00 pm
Fri 13 Mar 2020, 09:00 pm
Sat 14 Mar 2020, 01:30 pm
Sat 14 Mar 2020, 02:30 pm
Audio Described Performance
Te Papa
Wellington
Sat 14 Mar 2020, 08:00 pm
Sat 14 Mar 2020, 09:00 pm
Dance, Contemporary, Maori, Festivals
Wheelchair access, Accessible toilets, Mobility parking
Allocated Seating $59, Earlybird $53
Earlybird sales close 16 December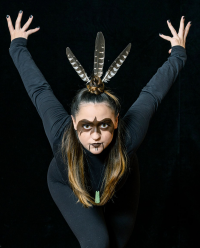 BOOK FAST EARLY BIRD SALES END MON 16 DEC
"A rich fusion of choreography, music, tikanga Māori and performance practices, AV, lighting and performance design"
— ON ŌKĀREKA DANCE COMPANY'S MANA WAHINE - THEATREVIEW

Enter a world of sacred eagles that blends the ancient with the modern.

From spirit eagles land explores parallels between the Hōkioi (Haast) Eagle and the Vwōhali (American Golden) Eagle, embodying the majesty and mana of those two sacred birds and their shared whakapapa.

Swooping and soaring, the dancers' movement is enhanced by a cinematic surround-sound experience that cleverly transports you between Aotearoa, Duyuktv (Cherokee) land and the spiritual realm.

For Ōkāreka choreographer Taiaroa Royal (Te Arawa, Kai Tahu, Ngāti Raukawa, Ūenukukōpako), this is the climax of his 11-year journey of cultural discovery that began with a chance meeting with Cincinnati-based choreographers Missy and Andrew Hubbard of Exhale Dance Tribe and the revelation that both Māori and the Duyuktv people share a special connection through reverence of the eagle. Be there for this, the world premiere season.

There is a free pre-show talk for this event on Saturday 14 March at Soundings Theatre, Te Papa.

Commissioned by New Zealand Festival of the Arts.
Supported by Creative New Zealand and Foundation North.
Partnered by Studio Pacific Architecture
Event Dates
Thu 12 Mar 2020, 08:00 pm
Thu 12 Mar 2020, 09:00 pm
Allocated Seating $59, Earlybird $53
Fri 13 Mar 2020, 08:00 pm
Fri 13 Mar 2020, 09:00 pm
Allocated Seating $59, Earlybird $53
Audio Described Performance
Wellington
Te Papa

Sat 14 Mar 2020, 01:30 pm
Sat 14 Mar 2020, 02:30 pm
Allocated Seating $59, Earlybird $53
Sat 14 Mar 2020, 08:00 pm
Sat 14 Mar 2020, 09:00 pm
Allocated Seating $59, Earlybird $53