Footnote New Zealand Dance Intensive 2020
Mon 24 Aug 2020, 08:00 am
Fri 28 Aug 2020, 05:00 pm
RNZB Dance Centre
115 Wakefield St
Wellington
Dance, Contemporary, Conferences Workshops Classes, Wellington Region,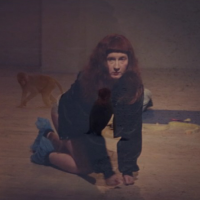 Calling all freelance dancers and makers! This is your invitation to join us for our fifth annual Intensive: this year comprised of workshops led by Alexa Wilson and morning class with Matte Roffe. We're so excited to be able to go ahead with our Intensive programme this year! This week-long professional development event is designed for you to have the space to explore and grow in your practice, through workshops facilitated by acclaimed New Zealand experimental choreographer, performance artist, video creator, writer and curator, Alexa Wilson.
Alexa will lead participants through sessions focussing on transformation within movement, choreography and collaboration. Matte Roffe, accomplished dancer/performer and past Australian Dance Theatre company member, will set participants up for the day through his dynamic classes that explore the full potential of the body in a deeply considered way.
Due to the difficulties faced by artists in this current climate, we are offering this year's Intensive at a lower price than usual. And thanks to our friends at the Royal New Zealand Ballet, we are also thrilled to be hosting the Intensive at the RNZB Dance Centre this year.
There are limited spaces available for this Intensive, so please register your expression of interest by completing the simple online application form below by Sunday 12th July.
Monday 24th August – Friday 28th August (inclusive)
RNZB Dance Centre, 115 Wakefield St, Wellington
Cost: $150
Please email Artistic Liaison Anita Hunziker if you have any questions – anita@footnote.org.nz
More information at www.footnote.org.nz