Follow: Immersive Movement Tours with BodyCartography Project
Sat 20 Oct 2018, 11:00 am
Sat 20 Oct 2018, 04:00 pm
Te Papa Tongarewa
55 Cable Street
Wellington
Sat 03 Nov 2018, 11:00 am
Sat 03 Nov 2018, 04:00 pm
Te Papa Tongarewa
55 Cable Street
Wellington
4 days ago, Sat 10 Nov 2018, 11:00 am
4 days ago, Sat 10 Nov 2018, 04:00 pm
Te Papa Tongarewa
55 Cable Street
Wellington
Dance, Free Entry Event, Visual Arts,
Wheelchair access, Accessible toilets, Mobility parking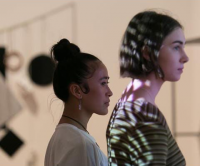 Follow: Immersive Movement Tours with BodyCartography Project
In Follow, a new BodyCartography Project commission, dancers lead you through our new art galleries on a unique tour that uses movement to explore art in new ways.
This one-on-one walking tour activates your senses and encourages deep connections with the surrounding art and architecture. As dancers guide you through the new Toi Art galleries, even the simple act of opening and closing your eyes becomes a revelation. Immediate, personal, physical – this immersive movement tour will transform the way you experience art.
Follow has been commissioned for Te Papa's collection, as our first intangible dance acquisition. Developed and choreographed by Olive Bieringa of BodyCartography Project, delivered by Kosta Bogoievski, Josie Archer, and Footnote New Zealand Dance's Anu Khapung, Georgia Beechey-Gradwell, Joshua Faletua, Tyler Carney, and Adam Naughton.
Bookings
Bookings are free but it is advisable to book your space. Click the Te Papa Ticket Link and select your time, or turn up on the day to see if there are any places. Tours run for half an hour from 11am–4pm.
Tours are available on:
Saturday 20 October
Saturday 3 November
Saturday 10 November
Event Dates
Sat 20 Oct 2018, 11:00 am
Sat 20 Oct 2018, 04:00 pm
Sat 03 Nov 2018, 11:00 am
Sat 03 Nov 2018, 04:00 pm
4 days ago, Sat 10 Nov 2018, 11:00 am
4 days ago, Sat 10 Nov 2018, 04:00 pm