EMERALD - Flamenco Dance Theatre
Mon 24 Feb 2020, 09:00 pm
Wed 26 Feb 2020, 09:00 pm
TAPAC
100 Motions Road, Western Springs, Auckland
Auckland
Tue 25 Feb 2020, 09:00 pm
Thu 27 Feb 2020, 09:00 pm
TAPAC
100 Motions Road, Western Springs, Auckland
Auckland
Wed 26 Feb 2020, 09:00 pm
Fri 28 Feb 2020, 09:00 pm
TAPAC
100 Motions Road, Western Springs, Auckland
Auckland
Flamenco, Dance, World Art And Culture, Auckland Region
Wheelchair access, Accessible toilets, Mobility parking
https://www.qtheatre.co.nz/emerald-flamenco-theatre
Tickets on sale now. Not recommended for minors un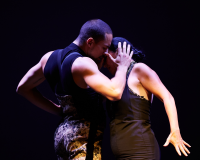 FLAMENCO DANCE THEATRE FROM SPAIN - A Dark Tale of Cinderella
"Not like you have seen before"
Hernandez & Tamayo Spanish Dance Theatre premiere their work EMERALD in Auckland, for the Summer at Q Theatre Pride and Fringe Festival,and at The Auckland Performing Arts Centre (TAPAC). Unlike what you would expect from Flamenco dance, Hernandez & Tamayo draw a measured distance from the traditional spotted dresses and flying skirts. Always advancing forward and pioneering Spanish Dance Arts in Australia, their latest work is a signatory of their union, interweaving folkloric, ballet, contemporary and Flamenco dance, like never seen before in New Zealand. Ballet trained, Spanish folkloric and contemporary dance artist Aitor Hernandez Sanzano breathes world-class experience and knowledge from the Ballet Nacional of Spain and has aligned with traditional Gypsy Flamenco artist Marina Tamayo who trained in Sacromonte, Granada to form a unique culturally rich contemporary dance Spanish team.
Exploring the intrinsic fight with the shadows of the past, Hernandez and Tamayo are performers who use their very different dance heritages to an advantage. There are strong elements of folk and classical ballet traditions, but these movement vocabularies are used explicitly to describe internal states. Intensity, passion and intricacy are woven exquisitely as they move through a series of encounters. Liquid arms and percussive responses describe shifts in status and rituals of leaving and returning and desiring and rejecting. With a simple change of cloth, relationships between generations shift and rivalries are made manifest.
"It is impossible to ignore how well these dancers perform the simplest shoulder shift and the most complex footwork. It is exciting to see this embodiment of their vulnerability" Lesley Graham, Australian Dance Review for MOVES Contemporary Dance Festival, Hobart.
See Emerald Flamenco Theatre at Q Theatre Loft during Summer at Q Festival and at TAPAC during Auckland Fringe.
KEY INFO
Where: QTHEATRE LOFT
When: 14th -15th February 2020, 6.30pm (show duration 45 mins)
Price: $39 - $59
Book at: https://www.qtheatre.co.nz/
Where: TAPAC, 100 Motions Road, Western Springs, Auckland
When: 24-26 February 2020, 9pm (show duration 45 mins)
Price: $30-$35
Book at: www.tapac.org.nz
For media queries and further info contact Marina Tamayo Hernandeztamayospanishdance@gmail.com or tel 0415384038 (Sydney, Australia)
Event Dates
TAPAC
Auckland
100 Motions Road, Western Springs, Auckland

Mon 24 Feb 2020, 09:00 pm
Wed 26 Feb 2020, 09:00 pm
TAPAC
Auckland
100 Motions Road, Western Springs, Auckland

Tue 25 Feb 2020, 09:00 pm
Thu 27 Feb 2020, 09:00 pm
TAPAC
Auckland
100 Motions Road, Western Springs, Auckland

Wed 26 Feb 2020, 09:00 pm
Fri 28 Feb 2020, 09:00 pm