Discount Student Group Tickets to RNZB Bold Moves
4 days ago, Fri 16 Aug 2019, 07:30 pm
Sun 15 Sep 2019, 09:00 pm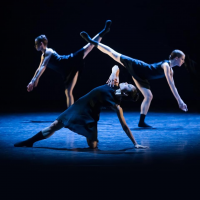 Royal New Zealand Ballet
16 August – 15 September
Brave. Bright. Beautiful.
Works by George Balanchine, William Forsythe and Andrea Schermoly.
Dance teachers - gather your students and take them to see the RNZB's triple bill Bold Moves with our special offer for groups (see below for details).
Definitive dance works from three different decades, each piece offers a rare glimpse into bold and boundary-defying choreographers who captured the zeitgeist through dance.
George Balanchine's iconic work
Serenade
is all moonlight; William Forsythe's
Artifact II
is a blast of bold colour. These two iconic works bookend a powerful new commission by Andrea Schermoly,
Stand to Reason
, first seen in 2018 as part of the Royal New Zealand Ballet's Wellington-only
Strength & Grace
programme, celebrating female suffrage.
Groups of 20 or more will receive a 15% discount on both adult and child tickets.
To book, contact the Group Line of your local ticketing agency
Auckland – (09) 970 9745 (Ticketmaster group booking line)
Christchurch – (03) 379 0597 (Ticketek group booking line)
Dunedin – (03) 477 8597 (Ticket Direct)
Napier – 0 800 7692 7827 (Ticketek group booking line)
Palmerston North – (06) 357 9740 (Ticket Direct)
Wellington – (09) 970 9745 (Ticketmaster group booking line)