Dancing in Parks 2019
Sat 02 Mar 2019, 11:00 am
Sat 02 Mar 2019, 01:00 pm
Sat 09 Mar 2019, 01:00 pm
Sat 09 Mar 2019, 03:00 pm
6 days ago, Sat 16 Mar 2019, 01:00 pm
6 days ago, Sat 16 Mar 2019, 03:00 pm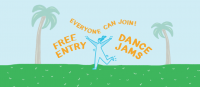 'Dancing in Parks' is a series of weekly dance workshops, performance and a place have a boogie in the Albert- Eden area. What better way to spend the summer than having a dance with you friends, family and community in your local park! There will be different styles such as Aerial dance, Contemporary and Kpop!
Dancing in Parks will engage a range of local dance groups and individuals as well as specialist dance facilitators to run the workshops for each event. The event encourages all people to participate and promotes the idea that people of any age, background, ability and experience can dance!
Saturday 2 March: MINDFUL CONTEMPORARY DANCE with Claire O'Neil
Saturday 9 March: KPOP DANCE with CRAVE Dance Studio
Saturday 16 March: Aerial Dance with HighJinx Youth Company and The Dust Palace.
Event Dates
Sat 02 Mar 2019, 11:00 am
Sat 02 Mar 2019, 01:00 pm
Sat 09 Mar 2019, 01:00 pm
Sat 09 Mar 2019, 03:00 pm
6 days ago, Sat 16 Mar 2019, 01:00 pm
6 days ago, Sat 16 Mar 2019, 03:00 pm