Body Weather Workshop with Frank van de Ven
Sat 08 Jun 2019, 10:00 am
Sun 09 Jun 2019, 04:00 pm
Te Auaha
65 Dixon Street Te Aro
Wellington
Dance, Conferences Workshops Classes,
$25 one session, $50 a day, $80 for two days
Registrations close 24 May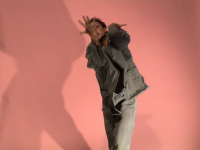 Awesome humans - get amongst this. It's going to be a lot fun & great learning.

THE WORKSHOPS , SAT 8TH & SUN 9TH OF JUNE, WELLINGTON

10AM-12:30PM MUSCLE & BONE

Mind, body, muscles& bones. M&B is an energetic, dynamic and rhythmic movement work-out that observes the kinaesthetic sensitivity and co-ordination potential of the body-in-motion while developing strength, endurance, flexibility and grounding.

1PM--4PM BODY WEATHER // FROM TOUCH TO DANCE

Investigate the connection between bodies and environments. We will focus on how developing multiple qualities of touch and being touched can expand one's movement skills and vocabulary. Touch makes us aware of the world inside and outside of us. To touch is to be touched. After a clear set-up we will expand what we find into Improvisation.

// sessions are open to dancers and movers of all levels of ability//

THE TUTOR - FRANK VAN DE VEN

Frank is a dancer and director who spent his formative years in Japan working with Min Tanaka and the Maijuku Performance Company. Together with Katerina Bakatsaki he founded Body Weather Amsterdam as a platform for training and performance. He performs, directs and teaches all over Europe as well as in the USA, New Zealand and Australia.

PRICE:

$25 for one session
$50 for the day
$80 for both days

REGISTER BELOW BY 24/05/2019

https://docs.google.com/forms/d/e/1FAIpQLSfG54ulCh7zcsQS35i6x-p_AY35raRhZJQsH7aIHKkiZwBF-g/viewform?usp=sf_link

More about Body Weather www.bodyweatheramsterdam.nl
With further questions email dance@humandance.co.nz.

Excited to dance with you soon!