A Song, a Dance, and a Painting
View all Dates
Thu 22 Apr 2021, 06:30 pm - 7:10pm
Suter Theatre
208 Bridge Street
Nelson
Fri 23 Apr 2021, 02:30 pm - 3:10pm
Suter Theatre
208 Bridge Street
Nelson
Fri 23 Apr 2021, 06:30 pm - 7:10pm
Suter Theatre
208 Bridge Street
Nelson
Dance, Contemporary, Visual Arts, Nelson Region, Music,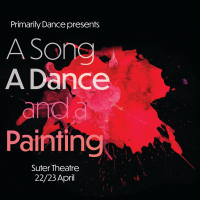 You will be watching a painter - Ann Braunsteiner - working right in front of your eyes; in response and challenge to dancer - Bjorn Aslund; set to pieces by Britten and Cassado played by solo cellist Raeul Pierard.
Conceived and directed by Lesley Bandy, this 45-minute performance melds these art forms in an intimate new way through a bespoke mechanical set designed and built by Lee woodman.
Primarily Dance is further excited to present an original composition - Flames of the Heart - by Raeul Pierard, and The Swan (by Saint-Saens) by upcoming dancer Bianca Lungu.
Event Dates
Suter Theatre
Nelson
208 Bridge Street

Thu 22 Apr 2021, 06:30 pm
Thu 22 Apr 2021, 07:10 pm
Suter Theatre
Nelson
208 Bridge Street

Fri 23 Apr 2021, 02:30 pm
Fri 23 Apr 2021, 03:10 pm
Suter Theatre
Nelson
208 Bridge Street

Fri 23 Apr 2021, 06:30 pm
Fri 23 Apr 2021, 07:10 pm