Shel We? By Tupua Tigāfua
Wed 12 Dec 2018, 07:30 pm
Fri 14 Dec 2018, 08:30 pm
Te Auaha
65 Dixon Street Te Aro
Wellington
Dance, Pasifika, Festivals Arts,
Wheelchair access, Accessible toilets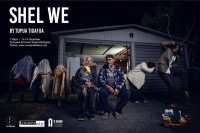 "Finesse, superb technical skills, experienced performers…the dance movements and choreography is assured, well-crafted and clever. Tigafua possesses a highly theatrical imagination and a liking for clearly-defined movement that uses the full-bodied energies of the male dancer" – Theatreview 2016
Award winning choreographer Tupua Tigāfua is a highly accomplished dancer and one of the most ingenious storytellers of this generation. After an illustrious career dancing for some of Aotearoa's creative elite, Tupua has steadily created his own dance style and is now ready to present the world premiere of his full-length dance show Shel We?.
Inspired by the works of renowned American writer Shel Silverstein, Shel We? is an enchanting, playfully intriguing and visually stunning show.
Shel We? is presented as part of the Measina Festival, 12 -16 December 2018, Wellington
Running time: 60 minutes
Booking via Eventbrite