Performing Arts Auditions - Māori and Pacific Dance
Wed 11 Sep 2019, 09:00 am
Thu 12 Sep 2019, 04:00 pm
Te Auaha
65 Dixon Street Te Aro
Wellington
Pasifika, Maori, Professional Development,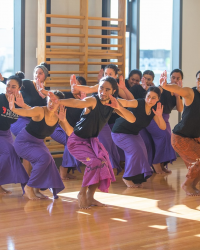 Audition for the New Zealand Diploma in Performing Arts - Māori and Pacific Dance and start in March 2020.
Learn Māori, Samoa, Cook Islands and New Zealand contemporary dance. Through this fusion develop the future of dance in Aotearoa. Build strengths in technique, performance and choreography. Students have worked with internationally-acclaimed dance company Black Grace and performed in a range of productions.
Auditions for our Performing Arts programmes usually involve workshops or group classes as well as some individual demonstration.Join any of the following days - you do not need to attend all:
Please contact Marietta Foote for more information or to book an audition: mariette.foote@whitireia.ac.nz