Performance Arcade 2019
Thu 21 Feb 2019, 08:00 am
Sun 03 Mar 2019, 09:00 pm
Wellington Waterfront
55 Cable Street
Wellington
Performing Arts, Festivals Arts,
Wheelchair access, Mobility parking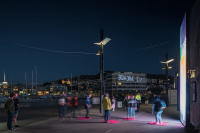 The Performance Arcade is New Zealand's leading experimental performance art festival.
Every year on Wellington Waterfront, a line of shipping containers provides a venue for a selection of performance installations and a programme of events, from live music through to live art. Widely recognized as a unique platform for performance artists, The Performance Arcade features artists from around New Zealand and the globe. And...it's FREE.
The Performance Arcade is an acclaimed live art event that attracts 60-90,000 people every year to Wellington Waterfront since 2011. Audiences come for an exciting and diverse program of art, live music, and performance, installed within a special architectural arrangement of shipping containers that are stacked and arranged together to create an innovative new space for performance and arts presentation. This miniature festival offers new encounters between artists and public, creating a vibrant hub that activates the city and exposes communities to new ideas and cultural perspectives. The free admission and waterfront location makes it accessible to a broad community, developing empowered audiences and participants in the creative and cultural life of the city.
Using a series of architecturally arranged shipping containers, The Performance Arcade creates a series of spaces for installation, performance art, sonic art, interactive media, forums and live music. Opening onto the bustling life of the Wellington Waterfront, these sites of encounter engage the public in contemporary art and performance practices outside the familiar constraints of gallery or theatre spaces.