DANZ How to be Your Stupid Self Clown Workshop at Tempo
Sat 13 Oct 2018, 10:00 am
Sat 13 Oct 2018, 12:00 pm
Wellesley Studios
113-115 Wellesley St
Auckland
Performing Arts, Theatre,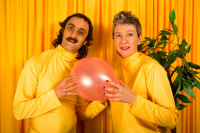 How to be Your Stupid Self Clown Workshop
A beginner's course in clown dynamics and presence with Thomas LaHood and Jo Randerson from Barbarian Productions.
This short, one-off course will introduce you to the basics of theatrical clown in a truly embodied and holistic way. Thomas will introduce you to your stupid self - giving you access to a rich personal resource. You will feel more confident, more relaxed and much happier after participating in this workshop.
Totally accessible for people of ANY background - no performance experience required. But, of course, always good for those who want to brush up their existing clown skills.
Photo by Owen McCarthy
WHEN: 13 October, 10am-12pm
WHERE: Wellesley Studios, Auckland
COST: $30 + booking fee
BOOKING: via Eventbrite
Presented by: