Dance for Parkinsons Workshop - Wellington
Sat 08 Sep 2018, 09:00 am
Sun 09 Sep 2018, 06:00 pm
Te Whaea: National Dance & Drama Centre
11 Hutchison Rd
Wellington
$295 / $275 DANZ & Dance for PD members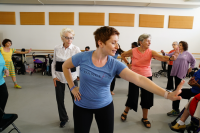 Dance for PD Teacher Training Workshop
Wellington, New Zealand
8-9 September 2018
Workshop highlights
Get specialized training in an acclaimed, award-winning global program that helps people with Parkinson's experience the joys and benefits of dance.
► Learn best practices and evidence-based methods from experienced teachers.
► Hone your teaching skills.
► Deepen your knowledge with our specially-created modules and acclaimed interactive sessions.
► Become part of a global network of talented, passionate instructors in 25 countries.
► Participate in an actual Dance for Parkinson's class with members of the local Parkinson's community.
Our Wellington workshop--the first training workshop of its kind in New Zealand--is designed primarily to help dance teachers adapt your expertise to work effectively and comfortably with the Parkinson's population under the guidelines and methodology of the Dance for PD® program. You'll cover special modules that focus on class structure, pedagogy and exercise design, and participate in a practicum class to develop class content and teaching techniques with founding teachers and other trainees, in addition to covering general modules about safety and working with Parkinson's participants.
Although this workshop is specifically geared toward dance teachers, we welcome a diverse group of individuals who may be interested in the workshop for Educational & Professional Enrichment (EPE). In this workshop, you will participate in all group discussions and modules, while serving as advisors during the teaching practicum on Day 2. The EPE program is designed to provide a comprehensive and intimate look at core components of the Dance for PD® program so that a wide variety of individuals without dance training or dance teaching experience can learn about our methods and benefit from our resources.
Workshop details
Facilitator:
Erica Rose Jeffrey PhD, Director and Lead Teacher for Dance for Parkinson's Australia. Additional local facilitation support provided by Rachel Horwell, PT, who originated Dance for PD-based classes in New Zealand.
Schedule: Saturday, 8 September and Sunday, 9 September from 9.00 - 18.00.
Location: Te Whaea National Dance & Drama Centre
11 Hutchison Rd, Newtown, Wellington 6021, New Zealand.
Credits: Earn up to 30 training credits toward the 50 credits required to be eligible for Dance for PD certification.
To join us:
1. Complete the application form to pre-register and hold a place.
2. Receive an acceptance letter from Dance for PD.
3. Complete the online course and assessment before the workshop.
4. Complete final registration and payment for the September workshop.
Enrolment is limited to ensure an optimal learning environment for participants. Workshop places are available on a first preregistered first reserved basis.
Tuition
Standard rate: NZD$295
Rate for DANZ and Dance for PD members: NZD$275
Tuition includes:
* all training modules and sessions
* a one-year Dance for PD® program membership with special access to continuing education materials and tools (a $65 value), and access to our international teachers' forum.
You'll also be able to add any of our popular and widely-used instructional DVDs and music CDs to your order when you register.
No payment is required to apply. Please complete our application. We will notify you upon acceptance into the training program. At that point, we will let you know about accessing the online course and provide more information about workshop registration.
Note about online course
Please note that workshop tuition does not include the pre-requisite online course (£65/NZD$126), which must be completed before the workshop. You'll receive details about the online course when you apply.
VISIT https://madmimi.com/s/78814c FOR MORE INFORMATION


WORKSHOP PRESENTED BY: