Alice in Wonderland
Sun 07 Apr 2019, 05:00 pm
Sun 07 Apr 2019, 07:00 pm
Hannah Playhouse
12 Cambridge Terrace
Wellington
Wed 10 Apr 2019, 07:30 pm
Wed 10 Apr 2019, 09:30 pm
Hannah Playhouse
12 Cambridge Terrace
Wellington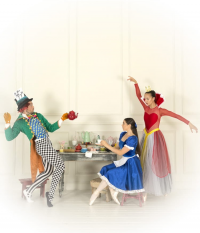 Complimented by one of Tchaikovsky's most famous scores, "Alice In Wonderland" tells the story of a young girl who is whisked away to a magical world of wonder. Falling through a rabbit hole, she meets magical creatures both strange and mysterious on her adventure to find her way home. Melbourne City Ballet's Michael Pappalardo (Artistic Director) and Brendan Bradshaw (Artistic Associate) pay homage to the well known novel by Lewis Carroll.
Melbourne City Ballet will entertain children and adult alike as they tour this work to 15 venues in New Zealand and over 45 venues across Australia.
"I'm so delighted to be bringing this ballet to New Zealand, my second home, having spent over 10 years of my career at the Royal New Zealand Ballet. It is a dream come true to stage this fantastic new ballet across the country" Brendan Bradshaw (Artistic Associate).
Performances are:
Sunday 7 April, 5.00pm

Wednesday 10 April, 7.30pm
Prices*: Adult $47.50; Student (with ID) $37.50; Senior Citizen (65+) $37.50; Group of 6 or more $37.50 per person *Service fees may apply.
Performance length: approx. 2 hours (incl. interval). Latecomers will be seated when appropriate.
Event Dates
Hannah Playhouse
Wellington
12 Cambridge Terrace
View on map
Sun 07 Apr 2019, 05:00 pm
Sun 07 Apr 2019, 07:00 pm
Hannah Playhouse
Wellington
12 Cambridge Terrace
View on map
Wed 10 Apr 2019, 07:30 pm
Wed 10 Apr 2019, 09:30 pm