Winterlude Silent Disco Citywalk
Sat 04 Aug 2018, 12:45 pm
Tue 04 Sep 2018, 02:15 pm
Countdown Store
76 Quay Street
Auckland Central
Health Lifestyle Active Event, Celebrate Local People, Dance, Fundraising
$25.00 + Online Booking Fee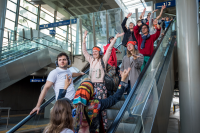 The real voyage of discovery consists not in seeking new landscapes, but in having new eyes. - Marcel Proust

Winterlude Silent Disco Citywalk hits Auckland and its streets, hidden corners, parks, car parks, and public spaces. This is an energetic outdoor multi-sensory and immersive experience like no other. This is a 90-minute musical walk around the city that transforms Auckland into the dance floor.

What is Winterlude Silent Disco Citywalk?
It is a mix of walk, dance, interactive games, surprises, endless fun and good vibes that you can enjoy on your own or share with your friends and family. We'll give you Silent Disco headphones and take you on a music walk around the city. Everyone in a group will hear the same pre-recorded entertaining playlist that includes all sorts of good songs, jokes, riddles, fun challenges that will make you feel connected, good, free, and creative.
NO DANCE EXPERIENCE OR DESIRE IS REQUIRED. Just be You, come as you are and let the rest flow.
Winterlude Silent Disco Citywalk takes place on Saturday 4 August: 12.45pm - 2.15pm
$25 per ticket (includes a one-way train ticket)
All tickets must be purchased online prior to the event.
Get tickets online: https://www.eventfinda.co.nz/2018/winterlude-silent-disco-citywalk/auckland
Rain or Shine.
Family-friendly. Kids 5+ years are welcome to join
Winterlude route takes you from Britomart to Newmarket that means hopping on the train and experience the city like never before.
The meeting point: inside of Countdown Store, 76 Quay Street.
The main entertainment theme is inspired by TV series "Black Mirror" and movie "Her". What does out future look like? Let the voice of Future You (that you could hear via Silent Disco headphones) guide you through the streets of Auckland.
"Dance like no one is watching

Love like you've never been hurt..."