Wellington Folk Festival 2018
26 hours ago, Fri 19 Oct 2018, 03:00 pm
Mon 22 Oct 2018, 11:00 pm
Brookfield Outdoor Education Centre
562 Moores Valley Wainuiomata
Lower Hutt
Festivals Arts, Dance, Music, Cultural Ethnic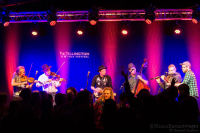 The Wellington Folk Festival is held every Labour Weekend at Brookfield Outdoor Education Centre – a beautiful site owned by the Scouts at 562 Moores Valley, Wainuiomata, Lower Hutt, New Zealand. The location is a nature reserve, so please no pets!
This year's festival dates are 19-22 October, 2018. Gates open at 3.00pm on Friday for pre-bookings and gate sales. To book tickets, click here or go to the Ticketing page.
We know how everyone loves to dance. So this year, we have not one but two dances programmed, in addition to the dance workshops.
Saturday evening, there is the big Ceilidh Dance in the marquee, with music and calling provided by guest act The String Contingent. Always popular with Festival goers, this is the opportunity to draw on the Scottish Ceilidh Dance workshop run earlier in the day and for everyone to burn off excess energy.
On Sunday evening, following on from the Sunday Showcase concert featuring five of our guest acts, we will have a Late Night Dance, led by Vic Folk. A second opportunity to dance your socks off!