Unitec Dance Auditions for 2020
Sat 19 Oct 2019, 08:00 am
Sun 20 Oct 2019, 04:00 pm
Applications close 11 October 2019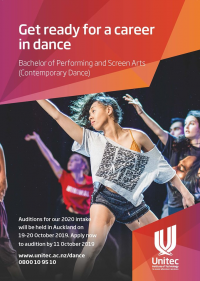 Get ready for a career in dance.
Bachelor of Performing and Screen Arts (Contemporary Dance)
Auditions for 2020 intake will be held in Auckland on 19-20 October.
Application Deadline: Friday 11 October 2019
Auditions: Auckland ONLY. 19 & 20 October 2019. All applicants must be available to attend both the Saturday and Sunday.
Preparation: An audition booklet is sent to each applicant outlining what they are expected to prepare for the audition.
Late applications: Late applications may be accepted under exceptional circumstances.
Find out more about studying Dance
Or Phone: 0800 10 95 10