Uganda to Aotearoa
Sat 21 Mar 2020, 07:30 pm
Sat 21 Mar 2020, 09:00 pm
Wellington Museum
3 Jervois Quay
Wellington
Dance, Music, World Art And Culture, Wellington Region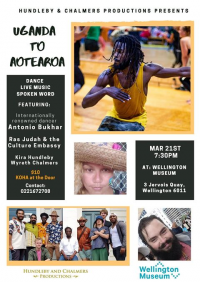 Hundleby and Chalmers Productions presests
UGANDA TO AOTEAROA
Dance, Live Music and Spoken Word
Featuring:
Internationally renowned dance Antonio Bukhar
Ras Judah and the Culture Embassy
Kira Hundleby and Wyreth Chalmers
Following Antonio Bukhar's Dance Hall and Afro-Fusion workshops taking place at the New Zealand School of Dance 18-21 March, these workshops will culminate into an amazing event UGANDA to AOTEAROA held at the Wellington Museum on the evening of Sat 21st March showcasing international renowned dancer Antonio Bukhar, World Pan African Jazz/folk band, Ras Judah Seomeng and the Culture Embassy, and local singer songwriter Kira Hundleby and Poet and Comedian Wyeth Chalmers. Join us with some electric dance, live music and spoken word! Some of the students from the workshops will hand picked by Antonio Bukhar and get the opportunity to dance with his crew with some cutting edge choreography!!! This event is in support of Antonio's current project Dance 2020 Experience for better livelihoods of young stars in the Pearl of Africa.