Touch Compass Schools Programme - I'mPaired
2 hours ago, Thu 21 Mar 2019, 11:00 am
56 minutes ago, Thu 21 Mar 2019, 01:00 pm
Pumphouse Theatre
Takapuna
Auckland
Wheelchair access, Accessible toilets, Mobility parking
Limited spaces. Teachers Free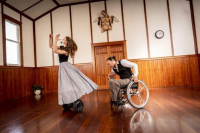 I'm Paired duets season
Presenting I'mPaired duets show for schools on Thursday 21 March at the Pumphouse Theatre, Takapuna. LIMITED SPACES!
Touch Compass is offering a schools performance of I'mPaired; a season of inclusive Dance duets on Thursday 21 March at 11am at the Pumphouse Theatre, Takapuna. Tickets $10. Teachers FREE.
This work will be of particular interest to NCEA Dance students, Special Schools and units as well as Teachers who would like to see inclusive Arts in action.
This will be the first Theatre season the company has produced in 5 years since developing its outdoor events and short films. We are back pounding the theatre boards again with a diverse and entertaining programme. "At 21 we want to acknowledge and celebrate what we have achieved and make way for a new grown up Touch Compass with a broader outlook in performing arts with Dance at its core," says Charlotte Nightingale, General Manager.
A show that is as inspiring as it is experimental, the Company uses Dance in all its forms with new technologies and collaborates with a diverse range of artists from other mediums to give the audience a sneak peak at the world through the Touch Compass lens.
The immense success of Drift; the duet choreographed by Sarah Foster-Sproull and performed by Touch Compass dancers Julie Van Renen and Rodney Bell has inspired the company to produce this captivating show.

Drift: In neither the past nor the future two friends dance a strange tango together. They drift in and out of contact with each other and throw down playful challenges of speed, dynamic, and gestural communication. As the dance partners drift in and out of contact we are invited to consider how we touch, and how this touch might be read by others.
Julie van Renens' new work The Language of Colour with Yung Chen (a visual artist with Cerebral Palsy) is set to be a highlight as it explores a fusion between the creation of live visual art with contemporary dance, a visceral mix of digital technology, live art, music and performance. The work made its premiere to 3,000 people at the Chinese New Year Festival in Wellington with audiences transfixed by this exciting new work.
Contact us for queries and bookings: info@touchcompass.org.nz
or (09) 550 6464
Further Touch Compass Schools Programmes:
Lakehouse Art/Performance Project, April
Madagascar Disney Kids Inclusive Musical, May
InMotion Matariki Illuminated Parade, July