The NZDC Youth Spring School 2018
Mon 08 Oct 2018, 09:00 am
8 days ago, Sat 13 Oct 2018, 04:00 pm
Wellesley Studios
113/115 Wellesley St West
Auckland
Dance, Teaching, Workshop, Professional Development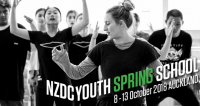 Applications are now open for the 2018 Youth Spring School.
For more information and to register for NZDC Youth Spring School 2018, please visit:
nzdc.org.nz/seasonal-schools
or call 09-378-7361
NZDC YOUTH SPRING SCHOOL 2018Dates:
Monday 8 – Saturday 13 October 2018
Time:
9am – 4pm
Location:
Wellesley Studios, 113 Wellesley Street West, Auckland
Age:
12+ years
Cost*:
$350 each
*
There is limited opportunity for financial assistance, which is based on hardship and need. If you would like to apply for a scholarship, please email Tammi at tammi.butterworth@nzdc.org.nz.
RESPECT: Perspectives in Motion
performance
Date:
Saturday 13 October 2018
Time
: 1pm
Location
: Atrium, Auckland War Memorial Museum
Free to watch
The next generation of world-class dance talent is set to be discovered as
The New Zealand Dance Company
(NZDC) announces its
Youth Spring School
seasonal training programme. Aimed at teenagers who love dance, NZDC offers the opportunity to learn from its professional dancers in a six -day intensive programme that will culminate in a public performance at the Auckland War Memorial Museum.
This is a unique opportunity for young dancers to train and perform with The New Zealand Dance Company during a week of their school holidays. Running 9am – 4pm from Monday 8 October, the programme has levels to cater for both new and experienced movers. Participants will learn techniques and explore choreographic processes at Wellesley Studios, the central Auckland world class dance house where NZDC is resident company.
Together the students and professionals will create a performance entitled '
RESPECT: perspectives in motion
', responding to Auckland Museum's
'
Are we there yet? Women and Equality in Aotearoa
'
exhibit. The piece, for male and female dancers, will be showcased at 1pm on Saturday 13 October to close the powerful exhibit that celebrates the 125
th
Anniversary of the first Women's Suffrage in Aotearoa. In a unique and inspiring intergenerational programme, the performance will also include the talent from NZDC's Feisty Feet Senior Dancers programme, expressing NZDC's philosophy of all being young at heart.
Leading the 2018 Youth Spring School is NZDC's Katie Rudd, one of New Zealand's elite contemporary dancers. A Company member since 2015 and full-time since 2016, Katie has performed in many national and international tours for NZDC's celebrated works including
Rotunda
,
Lumina
,
The Absurdity of Humanity
,
Kiss the Sky
, and
OrphEus -a dance opera
by Michael Parmenter. She is highly sought after as a tutor, leading many of the Company's Youth and Community Engagement Programmes including other Seasonal Schools and school workshops.
Katie sees it as a privilege to help young talent discover their passion for dance:
"I hope to challenge them physically with a range of movement styles and techniques, as well as stimulate their creativity through research, improvisation and choreographic tasking,"
says Katie about the upcoming Spring School.
"The studio will be an open space where we can have fun, experiment and learn, and ultimately enjoy a week of creating exciting contemporary dance together."
NZDC's Youth Seasonal Schools have become an industry celebrated programme, first launching in 2012 and mentoring hundreds of dancers, many of whom have gone on to dance professionally in various capacities. Glowing student testimonials from recent programmes all make mention of how much fun the training is, with one recent participant saying: "The highlight of the workshop was being around people who love dance and dancing nonstop because this is what I love to do. It was a week of the holidays well-spent."