Te Whare Tangata by Chas Samoa and Ankaramy Fepuleai - DANZ Social Media 2020 Takeover Session #8
Thu 16 Jul 2020, 01:00 am
Dance, Contemporary, Pacific Island, Maori Art, Film Media Entertainment, All New Zealand,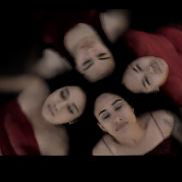 Te Whare Tangata - Chas Samoa & Ankaramy Fepuleai A piece about the relationship between wāhine and Papatūānuku. To speak about the importance of being a woman in Māori worldview, is to also speak about the importance of our Papatūānuku because both are referred to as two parallel concepts; held in high regard because of the integral role that both wāhine and whenua play in sustaining and creating life.
This is an exploration of our own (re)connection and (re)discovery to our whakapapa, our tipuna and our whenua as Pasifika/Māori wāhine, who currently reside in Tamaki Makaurau, Aotearoa.
Creative directors: Ankaramy Fepuleai Chas Samoa
Camera Operator: Ankaramy Fepuleai
Editor: Chas Samoa
Music: Tiki Taane - Tangaroa
An acknowledgement to our dancers: Funaki Taulanga, Denyse Davis, Paula Kahu - who committed in whole body, open-mindedness and getting our booties wet during the process.
An acknowledgement to our earlier dancers: Julia Aloali'i Viva Elesoni Fa'atafa Tolovae Vicky Medina - who couldn't be apart of this but committed to the beginning of our process - thank you for your time. As dancers and as discovering Indigenous artists, it is our birth right and our calling to "(re)present, (re)claim & recognise our authority, dignity and power as Mana Wahine" (Naomi Simmonds, 2011) for those who came before us, and those who will come after.