Taking Residence - A Movement Workshop
Thu 28 Nov 2019, 04:00 pm
Thu 28 Nov 2019, 05:00 pm
The Arts Centre Te Matatiki Toi Ora
2 Worcester Boulevard
Christchurch
Dance, Contemporary, Conferences Workshops Classes, Canterbury Region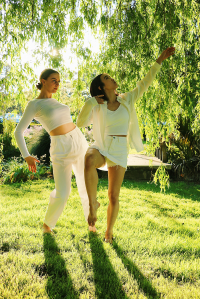 Auckland-based choreographer in residence Olivia O'Brien and dancers Miriam Esklidsen and Veronica (Chengen) Lyu present a FREE contemporary movement workshop for all ages and abilities in The Great Hall. Watch some cool moves from these experienced dancers, learn some of the repertoire and devise your own moves in this inclusive space. All ages, levels and abilities are welcome at this creative community workshop.

All you need to bring is a water bottle and comfortable clothes to dance in. No bookings required.

Please note, children under the age of 14 must be supervised by caregivers.

Raised in Christchurch, Olivia O'Brien studied with Garmonsway School of Dance and Hagley Dance Company before moving to Auckland where she is in the final year of her Bachelor of Performing and Screen Arts (Contemporary Dance) at Unitec.

This workshop is brought to you by The Arts Centre in partnership Dance Aotearoa New Zealand (DANZ) as part of the 2019 DANZ Dance Residency at The Arts Centre.