Splore Festival - Art Projects - Expressions of Interest
Thu 21 Feb 2019, 09:00 am
Sun 24 Feb 2019, 05:00 pm

Tapapakanga Regional Park
Auckland
Applications close 15 November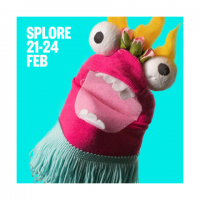 Splore has always been a festival about delivering rich experiences in both music and the arts. The role of art within Splore is a fundamental part of the festival and one which we continue to develop.
The most successful works have embraced the Splore culture, theme and environment and added to the festival experience with works that engage, connect and inspire the audience.
This year the theme is CELEBRATE!
Celebrate yourself! Celebrate friendship! Celebrate love, diversity, whanau and freedom! Celebrate your body! Celebrate tēnei whenua! Celebrate kindness, mother nature & sunshine! Celebrate everyday! Celebrate Splore! We encourage proposals to consider and interpret CELEBRATE!
We are particularly interested in works of scale, ideas that respond to site, provoke interaction and are inherently ambitious or aspirational.
We invite artists, designers, filmmakers, architects, performing artists and creatives to bring their talents to bear on a project to present within Splore.
Splore is a unique festival and there are specific concerns for artists on applying including site specificity, scale, day and night experience and durability. We are also very conscious of the impact we make on the environment so materials are to be carefully considered.
Our budget is limited but we can assist with certain aspects such as: material/development costs, lighting, power, transport and production labour for installation.
See application form for further details or email arts@splore.net
How to apply
Visit our website to learn more about Splore Festival and complete the online application form in the participate section.