Russell Kerr Lecture in Ballet and Related Arts 2019
Sun 10 Feb 2019, 03:00 pm
Sun 10 Feb 2019, 05:00 pm
Victoria University
Kelburn Parade
Wellington
Dance, Commemorations, Free Entry Event, Arts Culture
RSVP required: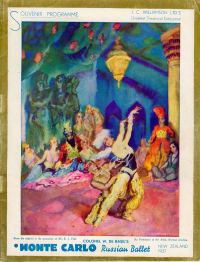 annesudell@orcon.net.nz or jennifershennan@xtra.co.nz
The second in the Russell Kerr Lecture on Ballet and Related Arts series will take place on Sunday 10 February 2019, 3 - 5pm, at Victoria University of Wellington.
The lecture will be delivered by Dr. Ian Lochhead – dance critic for The Press, Christchurch, and formerly lecturer in the Art History programme at Canterbury University. His topic is the visits of Russian Ballet companies to New Zealand in 1937 and 1939 and the contribution of that to the heritage of ballet in New Zealand.
As introduction to the session, there will be two very special performances that you will not want to miss.
An award to encourage music appreciation in a dancer will be made in the name of our late friend and colleague, Nigel Boyes.
No ticket required but bookings are essential for seating and catering purposes.
To RSVP to receive a booking confirmation or for any enquiries please email:
annesudell@orcon.net.nz or jennifershennan@xtra.co.nz
The inaugural Russell Kerr Lecture in Ballet & Related Arts was held at Victoria University Wellington in February 2018. The lecture, on Kristian Fredrikson's life and work in theatre design, was delivered by Dr. Michelle Potter who has since continued work on her biography of Kristian which is now heading towards publication. The occasion also included the performance of Loughlan Prior's choreography, Lark, with Jon Trimmer and William Fitzgerald in the cast, and Hamish Robb accompanying on piano.
---------------------------------
Contribution to the funds to ensure the lecture series can continue would be appreciated and can be made to: Russell Kerr Lecture Fund - 15 3971 0043453 80
(Please identify your name with the deposit, and contact annesudell@orcon.net.nz or jennifershennan@xtra.co.nz if you would like a receipt for tax purposes)