Russell Kerr lecture in Ballet & Related Arts 2020
Sun 09 Feb 2020, 04:00 pm
Sun 09 Feb 2020, 05:00 pm

Adam Concert Room of New Zealand School of Music / Te Kokiri VUW
Wellington
Dance, Arts Culture, Ballet, Wellington Region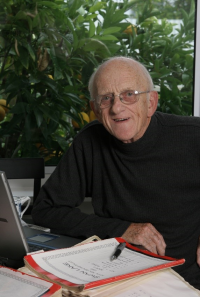 The third annual Russell Kerr Lecture in Ballet & Related Arts will take place on Sunday 9 February, 2020, at 4pm, in the Adam Concert Room of New Zealand School of Music / Te Kokiri, Victoria University of Wellington.
In the lecture, titled Douglas Wright – dancer, time-keeper, meteor Jennifer Shennan will consider how the metaphors of dance in Wright's prose, poetry, programme notes, postcards and drawings echo the power in his choreography and performance.
An opening dance performed by Anne Rowse and Jon Trimmer, and a closing dance by Keith McEwing, will frame our tribute to Russell Kerr on his 90th birthday.
Entry to the event is free but koha would be appreciated, and may be made into the following account:
Russell Kerr Lecture Fund
15 3971 0043453 80
Entry to the event is free but koha is appreciated. Enquiries and rsvp to annesudell@orcon.net.nz