Rosalina
Tue 27 Nov 2018, 08:00 pm
Sat 01 Dec 2018, 09:00 pm
Mangere Arts Centre
Corner Orly Ave & Bader Drive, Mangere
Auckland
Dance, Theatre, Pasifika,
Wheelchair access, Accessible toilets, Mobility parking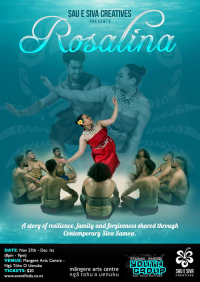 Following on from the award-winning sold-out season of their dance theatre show Lalelei, the Sau E Siva Creative Team are back in the kava bowl mixing up a fresh batch of goodness with their latest dance theatre work, Rosalina.
Inspired by author David Riley's adaptation story of Fatu & the Magic Crab - comes the legend of a beautiful Samoan maiden and her ten overprotective Samoan brothers! Rosalina is the prized possession of her family. After a failed attempt to win her heart, incompetent Ioane, son of High Chief Malietoa leaves a bittersweet gift of Nonu Juice that turns Rosalina into stone. Obsessive parents Tasi and Tō, worship the inanimate statue of their daughter, causing Rosalina's envious brothers to throw her stone-cold body into the deepest, darkest corner of the ocean. Will they ever retrieve her body? What lurks in the waters below? Who or what will restore the heart of a once vibrant home?
Rosalina is a fun story of family, forgiveness, love & reconciliation. Told through Contemporary Siva Samoa, live music and soulful harmonies - This is one celebration of theatre you won't want to miss! Move over Moana, there's a new girl in town and she's as solid as a rock! Literally.