Research Opportunity: Call for queer male dance graduates to participate in interview-based research
Tue 09 Oct 2018, 09:00 am
Thu 01 Nov 2018, 05:00 pm
University of Auckland
22 Symonds Street
Auckland
Expressions of interest close 1 November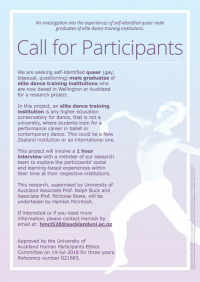 We are seeking self-identified queer (gay, bisexual,questioning) male graduates of elite dance training institutions who are now based in Wellington or Auckland for a research project.
In this project, an elite dance training institution is any higher education conservatory for dance, that is not a university, where students train for a performance career in ballet or contemporary dance. This could be a New Zealand institution or an international one.
This project will involve a 1 hour interview with a member of our research team to explore the participants' social and learning-based experiences within their time at their respective institutions.
This research, supervised by University of Auckland Associate Prof. Ralph Buck and Associate Prof. Nicholas Rowe, will be undertaken by Hamish McIntosh.
If interested or if you need more information, please contact Hamish by email at: hmci528@aucklanduni.ac.nz
Approved by the University of Auckland Human Participants Ethics Committee on 19-Jul-2018 for three years.