Producer - The Performance Arcade 2021
Fri 16 Oct 2020, 09:00 am
Applications Close 13 November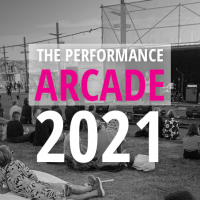 The Performance Arcade is an annual exhibition and programme of events located on Wellington Waterfront. Recognised as an important platform for live art, the Arcade has had ten presentations over the past nine years. Hybrid gallery/stage architecture is made from an assembly of shipping containers to create a series of spaces for installation, performance art, sonic art, interactive media, video-art, forums, theatre, dance, and live music.
Opening onto the bustling life of Wellington Waterfront, these sites of encounter engage the public in contemporary art and performance practices outside the familiar constraints of gallery or theatre spaces, visited by 60-90,000 people each year.
We are seeking a Producer who thinks on their feet and is able to work quickly and efficiently in our fast-paced festival environment. We would like someone who can commit to the role and offer insight and perspective to what we want to achieve.
TASKS
Hold the big picture view of the event at all times

Strategic and creative development of the project: working with the leadership team in developing and realising the programming, creative vision, and infrastructure for the project.

Reporting to the Artistic Director and board of trustees on duties.

Holding key relationships with core event team

Respond to correspondence, emails, phone calls or requests in person and liaise with patrons, sponsors, clients, performers, suppliers, tradespeople, and other parties as required.

Management of budgets, paying contractors, managing invoices and accounting documents.

Developing relationships with partner organisations and co-ordinating staff associated with these processes.

Co-ordinating and implementing campaigns and initiatives for fundraising, private giving and sponsorship for the project, seeking funding and support from individuals and businesses.

Assisting in running special events such as artist talks, development workshops, and the programme launch.

Hosting patrons, sponsors, and VIP guests at special events.

Brokering and maintaining relationships with patrons and sponsors for the event, providing sponsorship agreements, updating them on the progress of the project, and inviting them to events.

Writing grant applications and assisting in other fund-raising strategies.

Attending regular production meetings, reporting on duties, and participating in team decision making towards the presentation of The Performance Arcade 2021.

Maintain company records, file keeping and other reports when required.

Miscellaneous errands and general administrative duties as required from time to time.

Any other tasks that the business or the people that you report to may require from time to time.