Partner
Sun 28 Oct 2018, 06:30 pm
Mon 29 Oct 2018, 08:00 pm
TAPAC
100 Motions Road, Western Springs
Auckland
Wheelchair access, Accessible toilets, Mobility parking
$25 adult / $15 child, beneficiary
Jennifer De Leon - Poyema Dance
All ages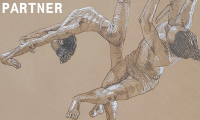 What do childhood, pain, age, bones, blindness, babies, light, air, harps, flutes, feet, faith, people and precious moments have in common?
These are our partners. Whatever road we take, these are alongside.
'Partner' is about the people/persons with whom we travel in life. Partner is 'The Other' - could be my friend, my lover, the music, the light, my garden, my faith, the unexpected guest.....
Here I dance with a man with tatoos, a child - perhaps the young me, a harp player who is blind and
pregnant, a flute player who doesn't dance, myself, and my God.
I am born barefoot and alone
I will die barefoot and alone
Sometimes my friends come with me
Often they go in the other direction
I am alone - but not lonely
The music,
myself, and grace
Accompany Me