Open Call- Experimental Dance Week Aotearoa - NZ 2020
Mon 02 Dec 2019, 09:00 am
Fri 24 Jan 2020, 05:00 pm
Applications close 24 January 2020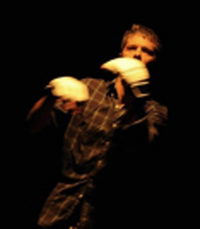 Open Call: Experimental Dance Week Aotearoa / NZ 2020
Deadline: January 24th 2020
Production: June 16th-20th 2020, Basement Theatre (Main space), Auckland.

This is an open call for dance artists to be part of Experimental Dance Week Aotearoa 2020. 15 artists will be selected to take part over a 5 day festival involving 12 shows for established and emerging artists, 5 workshops and 5 public discussions.

Experimental Dance Week Aotearoa 2019 marked 20 years of a new movement of experimental dance in New Zealand and celebrated 25-30 artists in an inaugural festival at Basement Theatre in Auckland, with a 5 day event and book launch: Te Ao Live: Experimental Dance Aotearoa NZ in the Early 21st Century. This was curated and produced by Alexa Wilson, and sponsored by Danz and Creative NZ.

Experimental Dance Week Aotearoa 2019
Te Ao Live

In 2020 the festival aims to support full length works of established artists, shorter works by emerging artists, invite international artists, and provide the Basement Theatre, a central Auckland venue as a base to present works. One Nz artist will also be selected to exchange with Morni Hills Performance Biennale in India in November 2020. This festival is sponsored by Creative NZ.

Application possibilities are as follows:

-1. Toward Full length 40-60 minute work (premiering or existing, not shown previously in Auckland) for established artists (fee $4000), alternatively an off-site (environmental) work somewhere in the city.
- 2. Toward 20-30 minute work (premiering) for shared shows, for emerging artists (fee $1000)
- 3. Toward 1 workshop of 3 hours (fee $150)
- 4. Toward 1 public talk/discussion 1.5 hours ($150)
NOTE: All artists receive 20 free hours rehearsal time (sponsored by the festival) at Kete Aronui in Onehunga Auckland.

- Exchange with Morni Hills Performance Biennale India in October 2020 for one solo artist who wishes to be selected. This involves fully sponsored return flight Nz/Chandigarh/India, accommodation and food at Morni Hills (Himalayas) and Chandigarh during the Biennale for a week during October 2020. This is likely to be performed outside in the Government Museum in Chandigarh as a solo performance up to 30 minutes.

Morni Hills Facebook
Morni Hills Residency

Please apply through the google form link below with details of your application. Please note you are likely to only be selected to do 1 aspect of these options, although you may apply for several. This allows for a range of artists to be represented within performances, talks and workshops. One artist presenting performance work will be invited to exchange with Morni Hills Performance Biennale in India.

Application online

Notification of selection: Early March 2020
Artistic Director: Alexa Wilson, Co-curator to be confirmed.
Producer: Carrie Rae.

Image: Josh Rutter, Variations on Darkness, Experimental Dance Week 2019, photo by Sara Cowdell.