Night Light - The New Zealand Dance Company
View all Dates
27 hours ago, Thu 13 Aug 2020, 07:30 pm - 9:30pm
ASB Waterfront Theatre
Auckland
Auckland
3 hours ago, Fri 14 Aug 2020, 07:30 pm - 9:30pm
ASB Waterfront Theatre
Auckland
Auckland
Dance, Contemporary, Auckland Region,
Wheelchair access, Accessible toilets, Mobility parking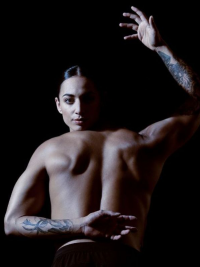 In a year where live performance was once so abruptly taken away, NZDC is humbled to invite you back into the theatre for an evening of earthy contrast. Indulge your senses in a complementary double bill by two dynamic New Zealand choreographers who bring to life an ancient sequence of nature and an environment that exists between fiction and reality.
First, float through time and space, observing nature's mysterious golden spirals in the Auckland premiere of newly appointed NZDC Co-artistic Director Tor Colombus' The Fibonacci.
Then, ground down with feeling in the world premiere of emerging Māori choreographer Eddie Elliott's Uku - Behind The Canvas, where confronting storytelling is at its most raw.
Night Light will leave you in awe of the talent and artistry brewing right here on our shores. We believe that everyone should have access to the joy that live performance brings, so in an effort to break down cost as a barrier all tickets to Night Light are $25*. Auckland ASB Waterfront Theatre
Event Dates
ASB Waterfront Theatre
Auckland
Auckland

27 hours ago, Thu 13 Aug 2020, 07:30 pm
25 hours ago, Thu 13 Aug 2020, 09:30 pm
ASB Waterfront Theatre
Auckland
Auckland

3 hours ago, Fri 14 Aug 2020, 07:30 pm
1 hour ago, Fri 14 Aug 2020, 09:30 pm