New Zealand Primary Schools Teachers Conference 2019
Mon 15 Apr 2019, 10:00 am
Tue 16 Apr 2019, 05:00 pm
Wellington College
15 Dufferin St Mount Victoria
Wellington
Conferences Workshops Classes, Professional Development,
Wheelchair access, Accessible toilets, Mobility parking
Early bird $380, Standard $450
Early bird registration ends 1 March 2019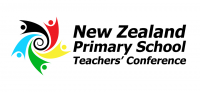 Naku te rourou nau te rourou ka ora ai te iwi
With your basket and my basket the people will live
The inaugural New Zealand Primary School Teacher's Conference (NZPSTC) will be held in Wellington from 15-16 April 2019. Collaboration is at the forefront with 10 subject associations and DANZ coming together to produce the event, which carries the theme 'Integrated Learning and Collaborative Teaching in the 21st Century.'
Theme: Integrated learning and collaborative teaching in the 21st century
Approximately 65 professional development workshops over two days


Networking, sharing good practice, collaborative learning, being inspired and having fun!


Outstanding, innovative presenters


Motivational keynote speakers include:
Hon Chris Hipkins, Dr Ann Milne and
Whetu Cormick (National President NZPF)


As the national support organisation for dance in Aotearoa, DANZ sees this as a great opportunity to work collaboratively with Physical Education New Zealand (PENZ) alongside other Subject Associations to provide a platform for the professional development of Primary and Intermediate teachers.
"We are excited about the opportunities provided by this conference to support teachers and hope the programme of workshops and discussion will lead to a shift towards using kinesthetic learning in schools and the wider community" – Sheryl Lowe, DANZ Exectutive Director.
With the support of Sport NZ, DANZ workshops will include:
Read it, dance it, write it; how dance can engage children in literacy with Krista Huber


Inclusive Dance with Sumara Fraser


Kōrari Movement & Basic Te Reo Māori workshop with Tānemahuta Gray (Ngāi Tahu, Rangitāne, Tainui)


Extending Story through Music and Dance with Liz Melchior and Priya Gain


PRICE (GST inclusive)
(Includes two days of conference & progressive dinner)
Early bird registration: $380
Ends 1 March 2019
Standard registration: $450
Ends 15 Mar 2019
Late registration: $590
Ends 29 Mar 2019
Website: www.nzptc.com
Contact: admin@penz.org.nz
Twitter: @NzPrimary
Facebook: nzpstconference
Download the DANZ Magazine article and flyer: NZ_Primary_School_Teachers_Conference_2019