NZDC Company Classes
View all Dates
Mon 15 Jun 2020, 09:00 am - 10:30am
Wellesley Studios
113 Wellesley St West, Auckland, New Zealand

Wed 17 Jun 2020, 09:00 am - 10:30am
Wellesley Studios
113 Wellesley St West, Auckland, New Zealand

Thu 18 Jun 2020, 12:00 am - 10:30am
Wellesley Studios
113 Wellesley St West, Auckland, New Zealand

Fri 19 Jun 2020, 12:00 am - 10:30am
Wellesley Studios
113 Wellesley St West, Auckland, New Zealand

Mon 22 Jun 2020, 09:00 am - 10:30am
Wellesley Studios
113 Wellesley St West, Auckland, New Zealand

Wed 24 Jun 2020, 09:00 am - 10:30am
Wellesley Studios
113 Wellesley St West, Auckland, New Zealand

Thu 25 Jun 2020, 12:00 am - 10:30am
Wellesley Studios
113 Wellesley St West, Auckland, New Zealand

Fri 26 Jun 2020, 12:00 am - 10:30am
Wellesley Studios
113 Wellesley St West, Auckland, New Zealand

Mon 29 Jun 2020, 09:00 am - 10:30am
Wellesley Studios
113 Wellesley St West, Auckland, New Zealand

Wed 01 Jul 2020, 09:00 am - 10:30am
Wellesley Studios
113 Wellesley St West, Auckland, New Zealand

Thu 02 Jul 2020, 12:00 am - 10:30am
Wellesley Studios
113 Wellesley St West, Auckland, New Zealand

Fri 03 Jul 2020, 12:00 am - 10:30am
Wellesley Studios
113 Wellesley St West, Auckland, New Zealand

Mon 06 Jul 2020, 09:00 am - 10:30am
Wellesley Studios
113 Wellesley St West, Auckland, New Zealand

Wed 08 Jul 2020, 09:00 am - 10:30am
Wellesley Studios
113 Wellesley St West, Auckland, New Zealand

Thu 09 Jul 2020, 12:00 am - 10:30am
Wellesley Studios
113 Wellesley St West, Auckland, New Zealand

Fri 10 Jul 2020, 12:00 am - 10:30am
Wellesley Studios
113 Wellesley St West, Auckland, New Zealand

Mon 13 Jul 2020, 09:00 am - 10:30am
Wellesley Studios
113 Wellesley St West, Auckland, New Zealand

Wed 15 Jul 2020, 09:00 am - 10:30am
Wellesley Studios
113 Wellesley St West, Auckland, New Zealand

Thu 16 Jul 2020, 12:00 am - 10:30am
Wellesley Studios
113 Wellesley St West, Auckland, New Zealand

Fri 17 Jul 2020, 12:00 am - 10:30am
Wellesley Studios
113 Wellesley St West, Auckland, New Zealand

Mon 20 Jul 2020, 09:00 am - 10:30am
Wellesley Studios
113 Wellesley St West, Auckland, New Zealand

Wed 22 Jul 2020, 09:00 am - 10:30am
Wellesley Studios
113 Wellesley St West, Auckland, New Zealand

Thu 23 Jul 2020, 12:00 am - 10:30am
Wellesley Studios
113 Wellesley St West, Auckland, New Zealand

Fri 24 Jul 2020, 12:00 am - 10:30am
Wellesley Studios
113 Wellesley St West, Auckland, New Zealand

Mon 27 Jul 2020, 09:00 am - 10:30am
Wellesley Studios
113 Wellesley St West, Auckland, New Zealand

Wed 29 Jul 2020, 09:00 am - 10:30am
Wellesley Studios
113 Wellesley St West, Auckland, New Zealand

Thu 30 Jul 2020, 12:00 am - 10:30am
Wellesley Studios
113 Wellesley St West, Auckland, New Zealand

Fri 31 Jul 2020, 12:00 am - 10:30am
Wellesley Studios
113 Wellesley St West, Auckland, New Zealand

Mon 03 Aug 2020, 09:00 am - 10:30am
Wellesley Studios
113 Wellesley St West, Auckland, New Zealand

Wed 05 Aug 2020, 09:00 am - 10:30am
Wellesley Studios
113 Wellesley St West, Auckland, New Zealand

Thu 06 Aug 2020, 12:00 am - 10:30am
Wellesley Studios
113 Wellesley St West, Auckland, New Zealand

Fri 07 Aug 2020, 12:00 am - 10:30am
Wellesley Studios
113 Wellesley St West, Auckland, New Zealand

Mon 10 Aug 2020, 09:00 am - 10:30am
Wellesley Studios
113 Wellesley St West, Auckland, New Zealand

Wed 12 Aug 2020, 09:00 am - 10:30am
Wellesley Studios
113 Wellesley St West, Auckland, New Zealand

Thu 13 Aug 2020, 12:00 am - 10:30am
Wellesley Studios
113 Wellesley St West, Auckland, New Zealand

Fri 14 Aug 2020, 12:00 am - 10:30am
Wellesley Studios
113 Wellesley St West, Auckland, New Zealand

Mon 17 Aug 2020, 09:00 am - 10:30am
Wellesley Studios
113 Wellesley St West, Auckland, New Zealand

Wed 19 Aug 2020, 09:00 am - 10:30am
Wellesley Studios
113 Wellesley St West, Auckland, New Zealand

Thu 20 Aug 2020, 12:00 am - 10:30am
Wellesley Studios
113 Wellesley St West, Auckland, New Zealand

Fri 21 Aug 2020, 12:00 am - 10:30am
Wellesley Studios
113 Wellesley St West, Auckland, New Zealand

Mon 24 Aug 2020, 09:00 am - 10:30am
Wellesley Studios
113 Wellesley St West, Auckland, New Zealand

Wed 26 Aug 2020, 09:00 am - 10:30am
Wellesley Studios
113 Wellesley St West, Auckland, New Zealand

Thu 27 Aug 2020, 12:00 am - 10:30am
Wellesley Studios
113 Wellesley St West, Auckland, New Zealand

Fri 28 Aug 2020, 12:00 am - 10:30am
Wellesley Studios
113 Wellesley St West, Auckland, New Zealand

Mon 31 Aug 2020, 09:00 am - 10:30am
Wellesley Studios
113 Wellesley St West, Auckland, New Zealand

Wed 02 Sep 2020, 09:00 am - 10:30am
Wellesley Studios
113 Wellesley St West, Auckland, New Zealand

Thu 03 Sep 2020, 12:00 am - 10:30am
Wellesley Studios
113 Wellesley St West, Auckland, New Zealand

Fri 04 Sep 2020, 12:00 am - 10:30am
Wellesley Studios
113 Wellesley St West, Auckland, New Zealand

Mon 07 Sep 2020, 09:00 am - 10:30am
Wellesley Studios
113 Wellesley St West, Auckland, New Zealand

Wed 09 Sep 2020, 09:00 am - 10:30am
Wellesley Studios
113 Wellesley St West, Auckland, New Zealand

Thu 10 Sep 2020, 12:00 am - 10:30am
Wellesley Studios
113 Wellesley St West, Auckland, New Zealand

Fri 11 Sep 2020, 12:00 am - 10:30am
Wellesley Studios
113 Wellesley St West, Auckland, New Zealand

Mon 14 Sep 2020, 09:00 am - 10:30am
Wellesley Studios
113 Wellesley St West, Auckland, New Zealand

Wed 16 Sep 2020, 09:00 am - 10:30am
Wellesley Studios
113 Wellesley St West, Auckland, New Zealand

Thu 17 Sep 2020, 12:00 am - 10:30am
Wellesley Studios
113 Wellesley St West, Auckland, New Zealand

Fri 18 Sep 2020, 12:00 am - 10:30am
Wellesley Studios
113 Wellesley St West, Auckland, New Zealand

Mon 21 Sep 2020, 09:00 am - 10:30am
Wellesley Studios
113 Wellesley St West, Auckland, New Zealand

Wed 23 Sep 2020, 09:00 am - 10:30am
Wellesley Studios
113 Wellesley St West, Auckland, New Zealand

Thu 24 Sep 2020, 12:00 am - 10:30am
Wellesley Studios
113 Wellesley St West, Auckland, New Zealand

Fri 25 Sep 2020, 12:00 am - 10:30am
Wellesley Studios
113 Wellesley St West, Auckland, New Zealand

Mon 28 Sep 2020, 09:00 am - 10:30am
Wellesley Studios
113 Wellesley St West, Auckland, New Zealand

Wed 30 Sep 2020, 09:00 am - 10:30am
Wellesley Studios
113 Wellesley St West, Auckland, New Zealand

Thu 01 Oct 2020, 12:00 am - 10:30am
Wellesley Studios
113 Wellesley St West, Auckland, New Zealand

Fri 02 Oct 2020, 12:00 am - 10:30am
Wellesley Studios
113 Wellesley St West, Auckland, New Zealand

Mon 05 Oct 2020, 09:00 am - 10:30am
Wellesley Studios
113 Wellesley St West, Auckland, New Zealand

Wed 07 Oct 2020, 09:00 am - 10:30am
Wellesley Studios
113 Wellesley St West, Auckland, New Zealand

Thu 08 Oct 2020, 12:00 am - 10:30am
Wellesley Studios
113 Wellesley St West, Auckland, New Zealand

Fri 09 Oct 2020, 12:00 am - 10:30am
Wellesley Studios
113 Wellesley St West, Auckland, New Zealand

Mon 12 Oct 2020, 09:00 am - 10:30am
Wellesley Studios
113 Wellesley St West, Auckland, New Zealand

Wed 14 Oct 2020, 09:00 am - 10:30am
Wellesley Studios
113 Wellesley St West, Auckland, New Zealand

Thu 15 Oct 2020, 12:00 am - 10:30am
Wellesley Studios
113 Wellesley St West, Auckland, New Zealand

Fri 16 Oct 2020, 12:00 am - 10:30am
Wellesley Studios
113 Wellesley St West, Auckland, New Zealand

Mon 19 Oct 2020, 09:00 am - 10:30am
Wellesley Studios
113 Wellesley St West, Auckland, New Zealand

Wed 21 Oct 2020, 09:00 am - 10:30am
Wellesley Studios
113 Wellesley St West, Auckland, New Zealand

Thu 22 Oct 2020, 12:00 am - 10:30am
Wellesley Studios
113 Wellesley St West, Auckland, New Zealand

Fri 23 Oct 2020, 12:00 am - 10:30am
Wellesley Studios
113 Wellesley St West, Auckland, New Zealand

Mon 26 Oct 2020, 09:00 am - 10:30am
Wellesley Studios
113 Wellesley St West, Auckland, New Zealand

Wed 28 Oct 2020, 09:00 am - 10:30am
Wellesley Studios
113 Wellesley St West, Auckland, New Zealand

Thu 29 Oct 2020, 12:00 am - 10:30am
Wellesley Studios
113 Wellesley St West, Auckland, New Zealand

Fri 30 Oct 2020, 12:00 am - 10:30am
Wellesley Studios
113 Wellesley St West, Auckland, New Zealand

Mon 02 Nov 2020, 09:00 am - 10:30am
Wellesley Studios
113 Wellesley St West, Auckland, New Zealand

Wed 04 Nov 2020, 09:00 am - 10:30am
Wellesley Studios
113 Wellesley St West, Auckland, New Zealand

Thu 05 Nov 2020, 12:00 am - 10:30am
Wellesley Studios
113 Wellesley St West, Auckland, New Zealand

Fri 06 Nov 2020, 12:00 am - 10:30am
Wellesley Studios
113 Wellesley St West, Auckland, New Zealand

Mon 09 Nov 2020, 09:00 am - 10:30am
Wellesley Studios
113 Wellesley St West, Auckland, New Zealand

Wed 11 Nov 2020, 09:00 am - 10:30am
Wellesley Studios
113 Wellesley St West, Auckland, New Zealand

Thu 12 Nov 2020, 12:00 am - 10:30am
Wellesley Studios
113 Wellesley St West, Auckland, New Zealand

Fri 13 Nov 2020, 12:00 am - 10:30am
Wellesley Studios
113 Wellesley St West, Auckland, New Zealand

6 days ago, Mon 16 Nov 2020, 09:00 am - 10:30am
Wellesley Studios
113 Wellesley St West, Auckland, New Zealand

4 days ago, Wed 18 Nov 2020, 09:00 am - 10:30am
Wellesley Studios
113 Wellesley St West, Auckland, New Zealand

3 days ago, Thu 19 Nov 2020, 12:00 am - 10:30am
Wellesley Studios
113 Wellesley St West, Auckland, New Zealand

2 days ago, Fri 20 Nov 2020, 12:00 am - 10:30am
Wellesley Studios
113 Wellesley St West, Auckland, New Zealand

View all Dates
Tue 16 Jun 2020, 09:00 am - 10:30am
Wellesley Studios
113 Wellesley St West, Auckland, New Zealand
Auckland
Tue 23 Jun 2020, 09:00 am - 10:30am
Wellesley Studios
113 Wellesley St West, Auckland, New Zealand
Auckland
Tue 30 Jun 2020, 09:00 am - 10:30am
Wellesley Studios
113 Wellesley St West, Auckland, New Zealand
Auckland
Tue 07 Jul 2020, 09:00 am - 10:30am
Wellesley Studios
113 Wellesley St West, Auckland, New Zealand
Auckland
Tue 14 Jul 2020, 09:00 am - 10:30am
Wellesley Studios
113 Wellesley St West, Auckland, New Zealand
Auckland
Tue 21 Jul 2020, 09:00 am - 10:30am
Wellesley Studios
113 Wellesley St West, Auckland, New Zealand
Auckland
Tue 28 Jul 2020, 09:00 am - 10:30am
Wellesley Studios
113 Wellesley St West, Auckland, New Zealand
Auckland
Tue 04 Aug 2020, 09:00 am - 10:30am
Wellesley Studios
113 Wellesley St West, Auckland, New Zealand
Auckland
Tue 11 Aug 2020, 09:00 am - 10:30am
Wellesley Studios
113 Wellesley St West, Auckland, New Zealand
Auckland
Tue 18 Aug 2020, 09:00 am - 10:30am
Wellesley Studios
113 Wellesley St West, Auckland, New Zealand
Auckland
Tue 25 Aug 2020, 09:00 am - 10:30am
Wellesley Studios
113 Wellesley St West, Auckland, New Zealand
Auckland
Tue 01 Sep 2020, 09:00 am - 10:30am
Wellesley Studios
113 Wellesley St West, Auckland, New Zealand
Auckland
Tue 08 Sep 2020, 09:00 am - 10:30am
Wellesley Studios
113 Wellesley St West, Auckland, New Zealand
Auckland
Tue 15 Sep 2020, 09:00 am - 10:30am
Wellesley Studios
113 Wellesley St West, Auckland, New Zealand
Auckland
Tue 22 Sep 2020, 09:00 am - 10:30am
Wellesley Studios
113 Wellesley St West, Auckland, New Zealand
Auckland
Tue 29 Sep 2020, 09:00 am - 10:30am
Wellesley Studios
113 Wellesley St West, Auckland, New Zealand
Auckland
Tue 06 Oct 2020, 09:00 am - 10:30am
Wellesley Studios
113 Wellesley St West, Auckland, New Zealand
Auckland
Tue 13 Oct 2020, 09:00 am - 10:30am
Wellesley Studios
113 Wellesley St West, Auckland, New Zealand
Auckland
Tue 20 Oct 2020, 09:00 am - 10:30am
Wellesley Studios
113 Wellesley St West, Auckland, New Zealand
Auckland
Tue 27 Oct 2020, 09:00 am - 10:30am
Wellesley Studios
113 Wellesley St West, Auckland, New Zealand
Auckland
Tue 03 Nov 2020, 09:00 am - 10:30am
Wellesley Studios
113 Wellesley St West, Auckland, New Zealand
Auckland
Tue 10 Nov 2020, 09:00 am - 10:30am
Wellesley Studios
113 Wellesley St West, Auckland, New Zealand
Auckland
5 days ago, Tue 17 Nov 2020, 09:00 am - 10:30am
Wellesley Studios
113 Wellesley St West, Auckland, New Zealand
Auckland
Dance, Conferences Workshops Classes,
Wheelchair access, Accessible toilets
New Zealand Dance Company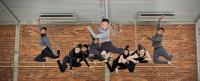 PROFESSIONAL LEVEL DANCE CLASSES
WEEKDAYS WHEN DANCERS ARE IN RESIDENCE / 9:00 AM – 10:30 AM
Wellesley Studios, 113 Wellesley St West, Auckland
We warmly invite you to join us for our weekly company classes. These classes happen throughout the year when NZDC is in residence at Wellesley Studios. Start your day in the right way with our morning movement and technique classes. They are the perfect opportunity to dance alongside our company dancers and are aimed at the professional level. Watch for weekly updates on our website.
Drop-In
$5 minimum koha/donation for the remainder of 2020 (cash or EFTPOS only)
Please pay at NZDC office before class
Event Dates
Wellesley Studios

113 Wellesley St West, Auckland, New Zealand

Mon 15 Jun 2020, 09:00 am
Mon 15 Jun 2020, 10:30 am
Wellesley Studios
Auckland
113 Wellesley St West, Auckland, New Zealand

Tue 16 Jun 2020, 09:00 am
Tue 16 Jun 2020, 10:30 am
Wellesley Studios

113 Wellesley St West, Auckland, New Zealand

Wed 17 Jun 2020, 09:00 am
Wed 17 Jun 2020, 10:30 am
Wellesley Studios

113 Wellesley St West, Auckland, New Zealand

Thu 18 Jun 2020, 12:00 am
Thu 18 Jun 2020, 10:30 am
Wellesley Studios

113 Wellesley St West, Auckland, New Zealand

Fri 19 Jun 2020, 12:00 am
Fri 19 Jun 2020, 10:30 am
Wellesley Studios

113 Wellesley St West, Auckland, New Zealand

Mon 22 Jun 2020, 09:00 am
Mon 22 Jun 2020, 10:30 am
Wellesley Studios
Auckland
113 Wellesley St West, Auckland, New Zealand

Tue 23 Jun 2020, 09:00 am
Tue 23 Jun 2020, 10:30 am
Wellesley Studios

113 Wellesley St West, Auckland, New Zealand

Wed 24 Jun 2020, 09:00 am
Wed 24 Jun 2020, 10:30 am
Wellesley Studios

113 Wellesley St West, Auckland, New Zealand

Thu 25 Jun 2020, 12:00 am
Thu 25 Jun 2020, 10:30 am
Wellesley Studios

113 Wellesley St West, Auckland, New Zealand

Fri 26 Jun 2020, 12:00 am
Fri 26 Jun 2020, 10:30 am
Wellesley Studios

113 Wellesley St West, Auckland, New Zealand

Mon 29 Jun 2020, 09:00 am
Mon 29 Jun 2020, 10:30 am
Wellesley Studios
Auckland
113 Wellesley St West, Auckland, New Zealand

Tue 30 Jun 2020, 09:00 am
Tue 30 Jun 2020, 10:30 am
Wellesley Studios

113 Wellesley St West, Auckland, New Zealand

Wed 01 Jul 2020, 09:00 am
Wed 01 Jul 2020, 10:30 am
Wellesley Studios

113 Wellesley St West, Auckland, New Zealand

Thu 02 Jul 2020, 12:00 am
Thu 02 Jul 2020, 10:30 am
Wellesley Studios

113 Wellesley St West, Auckland, New Zealand

Fri 03 Jul 2020, 12:00 am
Fri 03 Jul 2020, 10:30 am
Wellesley Studios

113 Wellesley St West, Auckland, New Zealand

Mon 06 Jul 2020, 09:00 am
Mon 06 Jul 2020, 10:30 am
Wellesley Studios
Auckland
113 Wellesley St West, Auckland, New Zealand

Tue 07 Jul 2020, 09:00 am
Tue 07 Jul 2020, 10:30 am
Wellesley Studios

113 Wellesley St West, Auckland, New Zealand

Wed 08 Jul 2020, 09:00 am
Wed 08 Jul 2020, 10:30 am
Wellesley Studios

113 Wellesley St West, Auckland, New Zealand

Thu 09 Jul 2020, 12:00 am
Thu 09 Jul 2020, 10:30 am
Wellesley Studios

113 Wellesley St West, Auckland, New Zealand

Fri 10 Jul 2020, 12:00 am
Fri 10 Jul 2020, 10:30 am
Wellesley Studios

113 Wellesley St West, Auckland, New Zealand

Mon 13 Jul 2020, 09:00 am
Mon 13 Jul 2020, 10:30 am
Wellesley Studios
Auckland
113 Wellesley St West, Auckland, New Zealand

Tue 14 Jul 2020, 09:00 am
Tue 14 Jul 2020, 10:30 am
Wellesley Studios

113 Wellesley St West, Auckland, New Zealand

Wed 15 Jul 2020, 09:00 am
Wed 15 Jul 2020, 10:30 am
Wellesley Studios

113 Wellesley St West, Auckland, New Zealand

Thu 16 Jul 2020, 12:00 am
Thu 16 Jul 2020, 10:30 am
Wellesley Studios

113 Wellesley St West, Auckland, New Zealand

Fri 17 Jul 2020, 12:00 am
Fri 17 Jul 2020, 10:30 am
Wellesley Studios

113 Wellesley St West, Auckland, New Zealand

Mon 20 Jul 2020, 09:00 am
Mon 20 Jul 2020, 10:30 am
Wellesley Studios
Auckland
113 Wellesley St West, Auckland, New Zealand

Tue 21 Jul 2020, 09:00 am
Tue 21 Jul 2020, 10:30 am
Wellesley Studios

113 Wellesley St West, Auckland, New Zealand

Wed 22 Jul 2020, 09:00 am
Wed 22 Jul 2020, 10:30 am
Wellesley Studios

113 Wellesley St West, Auckland, New Zealand

Thu 23 Jul 2020, 12:00 am
Thu 23 Jul 2020, 10:30 am
Wellesley Studios

113 Wellesley St West, Auckland, New Zealand

Fri 24 Jul 2020, 12:00 am
Fri 24 Jul 2020, 10:30 am
Wellesley Studios

113 Wellesley St West, Auckland, New Zealand

Mon 27 Jul 2020, 09:00 am
Mon 27 Jul 2020, 10:30 am
Wellesley Studios
Auckland
113 Wellesley St West, Auckland, New Zealand

Tue 28 Jul 2020, 09:00 am
Tue 28 Jul 2020, 10:30 am
Wellesley Studios

113 Wellesley St West, Auckland, New Zealand

Wed 29 Jul 2020, 09:00 am
Wed 29 Jul 2020, 10:30 am
Wellesley Studios

113 Wellesley St West, Auckland, New Zealand

Thu 30 Jul 2020, 12:00 am
Thu 30 Jul 2020, 10:30 am
Wellesley Studios

113 Wellesley St West, Auckland, New Zealand

Fri 31 Jul 2020, 12:00 am
Fri 31 Jul 2020, 10:30 am
Wellesley Studios

113 Wellesley St West, Auckland, New Zealand

Mon 03 Aug 2020, 09:00 am
Mon 03 Aug 2020, 10:30 am
Wellesley Studios
Auckland
113 Wellesley St West, Auckland, New Zealand

Tue 04 Aug 2020, 09:00 am
Tue 04 Aug 2020, 10:30 am
Wellesley Studios

113 Wellesley St West, Auckland, New Zealand

Wed 05 Aug 2020, 09:00 am
Wed 05 Aug 2020, 10:30 am
Wellesley Studios

113 Wellesley St West, Auckland, New Zealand

Thu 06 Aug 2020, 12:00 am
Thu 06 Aug 2020, 10:30 am
Wellesley Studios

113 Wellesley St West, Auckland, New Zealand

Fri 07 Aug 2020, 12:00 am
Fri 07 Aug 2020, 10:30 am
Wellesley Studios

113 Wellesley St West, Auckland, New Zealand

Mon 10 Aug 2020, 09:00 am
Mon 10 Aug 2020, 10:30 am
Wellesley Studios
Auckland
113 Wellesley St West, Auckland, New Zealand

Tue 11 Aug 2020, 09:00 am
Tue 11 Aug 2020, 10:30 am
Wellesley Studios

113 Wellesley St West, Auckland, New Zealand

Wed 12 Aug 2020, 09:00 am
Wed 12 Aug 2020, 10:30 am
Wellesley Studios

113 Wellesley St West, Auckland, New Zealand

Thu 13 Aug 2020, 12:00 am
Thu 13 Aug 2020, 10:30 am
Wellesley Studios

113 Wellesley St West, Auckland, New Zealand

Fri 14 Aug 2020, 12:00 am
Fri 14 Aug 2020, 10:30 am
Wellesley Studios

113 Wellesley St West, Auckland, New Zealand

Mon 17 Aug 2020, 09:00 am
Mon 17 Aug 2020, 10:30 am
Wellesley Studios
Auckland
113 Wellesley St West, Auckland, New Zealand

Tue 18 Aug 2020, 09:00 am
Tue 18 Aug 2020, 10:30 am
Wellesley Studios

113 Wellesley St West, Auckland, New Zealand

Wed 19 Aug 2020, 09:00 am
Wed 19 Aug 2020, 10:30 am
Wellesley Studios

113 Wellesley St West, Auckland, New Zealand

Thu 20 Aug 2020, 12:00 am
Thu 20 Aug 2020, 10:30 am
Wellesley Studios

113 Wellesley St West, Auckland, New Zealand

Fri 21 Aug 2020, 12:00 am
Fri 21 Aug 2020, 10:30 am
Wellesley Studios

113 Wellesley St West, Auckland, New Zealand

Mon 24 Aug 2020, 09:00 am
Mon 24 Aug 2020, 10:30 am
Wellesley Studios
Auckland
113 Wellesley St West, Auckland, New Zealand

Tue 25 Aug 2020, 09:00 am
Tue 25 Aug 2020, 10:30 am
Wellesley Studios

113 Wellesley St West, Auckland, New Zealand

Wed 26 Aug 2020, 09:00 am
Wed 26 Aug 2020, 10:30 am
Wellesley Studios

113 Wellesley St West, Auckland, New Zealand

Thu 27 Aug 2020, 12:00 am
Thu 27 Aug 2020, 10:30 am
Wellesley Studios

113 Wellesley St West, Auckland, New Zealand

Fri 28 Aug 2020, 12:00 am
Fri 28 Aug 2020, 10:30 am
Wellesley Studios

113 Wellesley St West, Auckland, New Zealand

Mon 31 Aug 2020, 09:00 am
Mon 31 Aug 2020, 10:30 am
Wellesley Studios
Auckland
113 Wellesley St West, Auckland, New Zealand

Tue 01 Sep 2020, 09:00 am
Tue 01 Sep 2020, 10:30 am
Wellesley Studios

113 Wellesley St West, Auckland, New Zealand

Wed 02 Sep 2020, 09:00 am
Wed 02 Sep 2020, 10:30 am
Wellesley Studios

113 Wellesley St West, Auckland, New Zealand

Thu 03 Sep 2020, 12:00 am
Thu 03 Sep 2020, 10:30 am
Wellesley Studios

113 Wellesley St West, Auckland, New Zealand

Fri 04 Sep 2020, 12:00 am
Fri 04 Sep 2020, 10:30 am
Wellesley Studios

113 Wellesley St West, Auckland, New Zealand

Mon 07 Sep 2020, 09:00 am
Mon 07 Sep 2020, 10:30 am
Wellesley Studios
Auckland
113 Wellesley St West, Auckland, New Zealand

Tue 08 Sep 2020, 09:00 am
Tue 08 Sep 2020, 10:30 am
Wellesley Studios

113 Wellesley St West, Auckland, New Zealand

Wed 09 Sep 2020, 09:00 am
Wed 09 Sep 2020, 10:30 am
Wellesley Studios

113 Wellesley St West, Auckland, New Zealand

Thu 10 Sep 2020, 12:00 am
Thu 10 Sep 2020, 10:30 am
Wellesley Studios

113 Wellesley St West, Auckland, New Zealand

Fri 11 Sep 2020, 12:00 am
Fri 11 Sep 2020, 10:30 am
Wellesley Studios

113 Wellesley St West, Auckland, New Zealand

Mon 14 Sep 2020, 09:00 am
Mon 14 Sep 2020, 10:30 am
Wellesley Studios
Auckland
113 Wellesley St West, Auckland, New Zealand

Tue 15 Sep 2020, 09:00 am
Tue 15 Sep 2020, 10:30 am
Wellesley Studios

113 Wellesley St West, Auckland, New Zealand

Wed 16 Sep 2020, 09:00 am
Wed 16 Sep 2020, 10:30 am
Wellesley Studios

113 Wellesley St West, Auckland, New Zealand

Thu 17 Sep 2020, 12:00 am
Thu 17 Sep 2020, 10:30 am
Wellesley Studios

113 Wellesley St West, Auckland, New Zealand

Fri 18 Sep 2020, 12:00 am
Fri 18 Sep 2020, 10:30 am
Wellesley Studios

113 Wellesley St West, Auckland, New Zealand

Mon 21 Sep 2020, 09:00 am
Mon 21 Sep 2020, 10:30 am
Wellesley Studios
Auckland
113 Wellesley St West, Auckland, New Zealand

Tue 22 Sep 2020, 09:00 am
Tue 22 Sep 2020, 10:30 am
Wellesley Studios

113 Wellesley St West, Auckland, New Zealand

Wed 23 Sep 2020, 09:00 am
Wed 23 Sep 2020, 10:30 am
Wellesley Studios

113 Wellesley St West, Auckland, New Zealand

Thu 24 Sep 2020, 12:00 am
Thu 24 Sep 2020, 10:30 am
Wellesley Studios

113 Wellesley St West, Auckland, New Zealand

Fri 25 Sep 2020, 12:00 am
Fri 25 Sep 2020, 10:30 am
Wellesley Studios

113 Wellesley St West, Auckland, New Zealand

Mon 28 Sep 2020, 09:00 am
Mon 28 Sep 2020, 10:30 am
Wellesley Studios
Auckland
113 Wellesley St West, Auckland, New Zealand

Tue 29 Sep 2020, 09:00 am
Tue 29 Sep 2020, 10:30 am
Wellesley Studios

113 Wellesley St West, Auckland, New Zealand

Wed 30 Sep 2020, 09:00 am
Wed 30 Sep 2020, 10:30 am
Wellesley Studios

113 Wellesley St West, Auckland, New Zealand

Thu 01 Oct 2020, 12:00 am
Thu 01 Oct 2020, 10:30 am
Wellesley Studios

113 Wellesley St West, Auckland, New Zealand

Fri 02 Oct 2020, 12:00 am
Fri 02 Oct 2020, 10:30 am
Wellesley Studios

113 Wellesley St West, Auckland, New Zealand

Mon 05 Oct 2020, 09:00 am
Mon 05 Oct 2020, 10:30 am
Wellesley Studios
Auckland
113 Wellesley St West, Auckland, New Zealand

Tue 06 Oct 2020, 09:00 am
Tue 06 Oct 2020, 10:30 am
Wellesley Studios

113 Wellesley St West, Auckland, New Zealand

Wed 07 Oct 2020, 09:00 am
Wed 07 Oct 2020, 10:30 am
Wellesley Studios

113 Wellesley St West, Auckland, New Zealand

Thu 08 Oct 2020, 12:00 am
Thu 08 Oct 2020, 10:30 am
Wellesley Studios

113 Wellesley St West, Auckland, New Zealand

Fri 09 Oct 2020, 12:00 am
Fri 09 Oct 2020, 10:30 am
Wellesley Studios

113 Wellesley St West, Auckland, New Zealand

Mon 12 Oct 2020, 09:00 am
Mon 12 Oct 2020, 10:30 am
Wellesley Studios
Auckland
113 Wellesley St West, Auckland, New Zealand

Tue 13 Oct 2020, 09:00 am
Tue 13 Oct 2020, 10:30 am
Wellesley Studios

113 Wellesley St West, Auckland, New Zealand

Wed 14 Oct 2020, 09:00 am
Wed 14 Oct 2020, 10:30 am
Wellesley Studios

113 Wellesley St West, Auckland, New Zealand

Thu 15 Oct 2020, 12:00 am
Thu 15 Oct 2020, 10:30 am
Wellesley Studios

113 Wellesley St West, Auckland, New Zealand

Fri 16 Oct 2020, 12:00 am
Fri 16 Oct 2020, 10:30 am
Wellesley Studios

113 Wellesley St West, Auckland, New Zealand

Mon 19 Oct 2020, 09:00 am
Mon 19 Oct 2020, 10:30 am
Wellesley Studios
Auckland
113 Wellesley St West, Auckland, New Zealand

Tue 20 Oct 2020, 09:00 am
Tue 20 Oct 2020, 10:30 am
Wellesley Studios

113 Wellesley St West, Auckland, New Zealand

Wed 21 Oct 2020, 09:00 am
Wed 21 Oct 2020, 10:30 am
Wellesley Studios

113 Wellesley St West, Auckland, New Zealand

Thu 22 Oct 2020, 12:00 am
Thu 22 Oct 2020, 10:30 am
Wellesley Studios

113 Wellesley St West, Auckland, New Zealand

Fri 23 Oct 2020, 12:00 am
Fri 23 Oct 2020, 10:30 am
Wellesley Studios

113 Wellesley St West, Auckland, New Zealand

Mon 26 Oct 2020, 09:00 am
Mon 26 Oct 2020, 10:30 am
Wellesley Studios
Auckland
113 Wellesley St West, Auckland, New Zealand

Tue 27 Oct 2020, 09:00 am
Tue 27 Oct 2020, 10:30 am
Wellesley Studios

113 Wellesley St West, Auckland, New Zealand

Wed 28 Oct 2020, 09:00 am
Wed 28 Oct 2020, 10:30 am
Wellesley Studios

113 Wellesley St West, Auckland, New Zealand

Thu 29 Oct 2020, 12:00 am
Thu 29 Oct 2020, 10:30 am
Wellesley Studios

113 Wellesley St West, Auckland, New Zealand

Fri 30 Oct 2020, 12:00 am
Fri 30 Oct 2020, 10:30 am
Wellesley Studios

113 Wellesley St West, Auckland, New Zealand

Mon 02 Nov 2020, 09:00 am
Mon 02 Nov 2020, 10:30 am
Wellesley Studios
Auckland
113 Wellesley St West, Auckland, New Zealand

Tue 03 Nov 2020, 09:00 am
Tue 03 Nov 2020, 10:30 am
Wellesley Studios

113 Wellesley St West, Auckland, New Zealand

Wed 04 Nov 2020, 09:00 am
Wed 04 Nov 2020, 10:30 am
Wellesley Studios

113 Wellesley St West, Auckland, New Zealand

Thu 05 Nov 2020, 12:00 am
Thu 05 Nov 2020, 10:30 am
Wellesley Studios

113 Wellesley St West, Auckland, New Zealand

Fri 06 Nov 2020, 12:00 am
Fri 06 Nov 2020, 10:30 am
Wellesley Studios

113 Wellesley St West, Auckland, New Zealand

Mon 09 Nov 2020, 09:00 am
Mon 09 Nov 2020, 10:30 am
Wellesley Studios
Auckland
113 Wellesley St West, Auckland, New Zealand

Tue 10 Nov 2020, 09:00 am
Tue 10 Nov 2020, 10:30 am
Wellesley Studios

113 Wellesley St West, Auckland, New Zealand

Wed 11 Nov 2020, 09:00 am
Wed 11 Nov 2020, 10:30 am
Wellesley Studios

113 Wellesley St West, Auckland, New Zealand

Thu 12 Nov 2020, 12:00 am
Thu 12 Nov 2020, 10:30 am
Wellesley Studios

113 Wellesley St West, Auckland, New Zealand

Fri 13 Nov 2020, 12:00 am
Fri 13 Nov 2020, 10:30 am
Wellesley Studios

113 Wellesley St West, Auckland, New Zealand

6 days ago, Mon 16 Nov 2020, 09:00 am
6 days ago, Mon 16 Nov 2020, 10:30 am
Wellesley Studios
Auckland
113 Wellesley St West, Auckland, New Zealand

5 days ago, Tue 17 Nov 2020, 09:00 am
5 days ago, Tue 17 Nov 2020, 10:30 am
Wellesley Studios

113 Wellesley St West, Auckland, New Zealand

4 days ago, Wed 18 Nov 2020, 09:00 am
4 days ago, Wed 18 Nov 2020, 10:30 am
Wellesley Studios

113 Wellesley St West, Auckland, New Zealand

3 days ago, Thu 19 Nov 2020, 12:00 am
3 days ago, Thu 19 Nov 2020, 10:30 am
Wellesley Studios

113 Wellesley St West, Auckland, New Zealand

2 days ago, Fri 20 Nov 2020, 12:00 am
2 days ago, Fri 20 Nov 2020, 10:30 am