Movement Workshop with Rodney Bell
4 days ago, Fri 19 Jul 2019, 11:00 am
4 days ago, Fri 19 Jul 2019, 12:00 pm
Globe 2
312 Main Street
Palmerston North
4 days ago, Fri 19 Jul 2019, 02:00 pm
4 days ago, Fri 19 Jul 2019, 03:00 pm
Globe 2
312 Main Street
Palmerston North
Conferences Workshops Classes, Performing Arts,
Wheelchair access, Accessible toilets, Mobility parking
Places strictly limited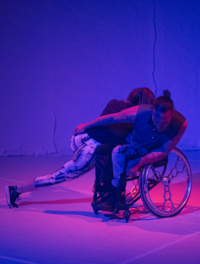 Movement Workshop with Rodney Bell
Rodney Bell is an internationally recognised performing artist who is specialised in working with people who live with a disability. Rodney will lead participants through a playful investigation of movement creation.
Back by popular demand following his workshop during NZ Dance Week in April, this is a unique opportunity for participants of all ages and abilities to work with Rodney to explore and create movement.
Places are strictly limited, please email danz@danz.org.nz to register your interest.
Event Dates
4 days ago, Fri 19 Jul 2019, 11:00 am
4 days ago, Fri 19 Jul 2019, 12:00 pm
4 days ago, Fri 19 Jul 2019, 02:00 pm
4 days ago, Fri 19 Jul 2019, 03:00 pm