Mohiniyattam workshop (South Indian Dance Form)
3 days ago, Sat 15 Dec 2018, 10:30 am
3 days ago, Sat 15 Dec 2018, 12:30 pm
Natyaloka School of Indian Dane
Room 113 King Edward Court
Dunedin
Dance, Community, Performing Arts, Arts Culture
Wheelchair access, Accessible toilets, Mobility parking
Swaroopa - Director, Natyaloka School of Indian Dance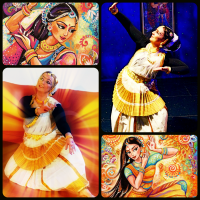 Natyaloka presents Mohiniyattam* workshop by renowned artist and educator Emilie Revéret (France) on Saturday, Dec 15, 2018 10.30 a.m. to 12.30pm at Room 113, King Edward Court. Price: $10. Booking necessary.
Please contact: natyalokanz@gmail.com
*Mohiniyattam is a dance form from Kerala, South India. The dance form is known for its graceful feminine movements and it is said that the dance form is inspired from the environment of Kerala.
Lesson Plan
1st part of the workshop :
- basics of the classical sacred dance of the enchantress of South India : Mohiniyattam, feminine dance.
2nd part of the workshop :
- semi-classical mini-choreography inspired by Lasya feminine energy.
About the Choreographer/Educator
Emilie Revéret is a dance and performing arts teacher at the Regional Academy for the artistic and cultural school of Clermont Ferrand city's town Hall and the Artistic director at Mayadhara society. She is also an Anthropology and Performing Arts (Theater and Dance) graduate from University of Lyon (France) before becoming a stage artist for more than 20 years. She has also learned performing arts and traditional arts in Auvergne, Lyon, Paris, then in India. She is training in Mohiniyattam with the renowned Mohiniyattam artist Smt. Smitha Rajan.