Mobile Core Embodiment and Contact Improvisation Dance in Gisborne
4 days ago, Sat 16 Nov 2019, 01:00 pm
4 days ago, Sat 16 Nov 2019, 03:30 pm
St Andrews Church Hall
Gisborne

3 days ago, Sun 17 Nov 2019, 01:00 pm
3 days ago, Sun 17 Nov 2019, 03:30 pm
St Andrews Church Hall
Gisborne

Dance, Contemporary, Conferences Workshops Classes, Gisborne Region
$30 for one workshop, $50 for both
GISBORNE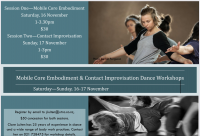 Mobile Core Embodiment and Contact Improvisation Dance
Session One - Mobile Core Embodiment.
The floor and gravity are the perfect first tools to unwinding your body. Working with the bones, breath, connective tissue and the nervous system this work gently unwinds the myofascial pathways of the body allowing a deepened awareness of your body in space, increased capacity for breath, and internal spaciousness with dynamic alignment. This will be an enjoyable workshop for those with an existing dance, movement or yoga practice. This work is slow and spacious. May involve some partner work.
Session Two - Listening and Sensing.
An introduction workshop to the art and dance of Contact Improvisation. Initiated by contemporary dancers in the 1970's in New York, Contact Improvisation has grown in popularity and range. It is a wonderful form of movement at which the point of contact between two dancers is the impetus for movement exploration together. A dance of listening. There are no set steps, and no counts, just the act of dynamic listening sensitive moving presence.
Clare Luiten has 25 years of experience in dance and a wide range of bodywork practices. She co founded the NZ Contact Retreat, and works as a dancer, movement therapist, and educator in Auckland.
What to wear: Soft warm long layers. Having clothing which covers the length of your limbs, and torso is desirable. During this workshop we are working in close proximity with each other, and using touch, personal and clothing cleanliness is appreciated by all. Please bring your own blankets or yoga mat, or both!
Location: St Andrews Church Hall.
Event Dates
St Andrews Church Hall

Gisborne

4 days ago, Sat 16 Nov 2019, 01:00 pm
4 days ago, Sat 16 Nov 2019, 03:30 pm
$30 for one workshop, $50 for both
St Andrews Church Hall

Gisborne

3 days ago, Sun 17 Nov 2019, 01:00 pm
3 days ago, Sun 17 Nov 2019, 03:30 pm
$30 for one workshop, $50 for both