Masina Returning Home - Auckland Live Pick n Mix
Sat 19 Oct 2019, 10:00 am
Sat 19 Oct 2019, 12:00 pm
Sun 20 Oct 2019, 10:00 am
Sun 20 Oct 2019, 12:00 pm
Bruce Mason Centre
Auckland

Theatre, Dance, Children, Conferences Workshops Classes
Wheelchair access, Accessible toilets, Mobility parking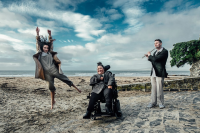 Join a fun filled adventure with Touch Compass!
When Sina awakes on a mystical, ancient beach, she has no idea how she got there. How will she find her way back? What is her connection to Masina?
Using words, song, music and dance including multi-sensory props and experiences, follow Sina and her exploration into reconnecting back to the land, her history and her future.
Workshop: Join a multi-sensory journey with Touch Compass and discover how you can tell a story in many different ways.
Please note: There will be a third performance of Masina Returning Home strictly for children up to the age of 18 who have PMLD (profound and multiple learning disabilities). It is a multi-sensory and interactive show that is presented to meet the needs of this specific audience and each audience member must have a support person with them throughout. Up to 2 siblings are also welcome to attend. Please note there is no workshop following this performance. To book for this specific performance, please contact info@touchcompass.org.nz to obtain a password link.
About the company:
Touch Compass is New Zealand's leading professional inclusive performance company – an inter arts organisation that goes beyond envisaging a seamless society, to actively creating one.

Join the Facebook event here
This year performances are ticketed. Tickets will be available on the 1st of each month and bookings are essential. Every person attending will require a ticket for entry, except children aged 23 months and under if seated on a parent's or caregiver's knee. Tickets for Masina Returning Home will be available to book from 9am, Thursday 19 September 2019.
Event Dates
Sat 19 Oct 2019, 10:00 am
Sat 19 Oct 2019, 12:00 pm
Bruce Mason Centre

Auckland

Sun 20 Oct 2019, 10:00 am
Sun 20 Oct 2019, 12:00 pm